GAM Liquidation Leaves 40% of Hedge Fund Investors' Money Stuck
(Bloomberg) -- GAM Holding AG will start paying back investors in its frozen bond funds, but some will get money out faster than others.
The Swiss firm will initially return 74 percent to 87 percent of the assets in Luxembourg and Irish-domiciled funds that were previously run by suspended bond manager Tim Haywood. Investors in Haywood's Cayman Islands-based hedge fund will only get about 60 percent in early September, with another 5 percent expected by the end of that month and the remainder paid out over time depending on market conditions.
GAM stunned investors with the July 31 announcement that it had suspended Haywood, triggering a flood of redemption requests and forcing the firm to freeze affected funds. Some investors in separate strategies have since pulled money, leading to an estimated $2.3 billion in net outflows through Aug. 17 from funds tracked by Bloomberg.
"GAM has lost close to $10 billion of assets if you also include recent outflows," David Hart, an analyst at Kepler Cheuvreux in Zurich, said by phone. "Then there's the legal and branding risk, which could add further pressure to flows."
The liquidation schedule suggests that the strategy's hard-to-sell holdings are particularly concentrated the Cayman hedge fund, which had about $2.79 billion in assets before it was frozen. Hedge funds generally can hold a larger share of illiquid investments than funds that are sold to the general public. But the Cayman fund may also have been impacted when Australian investors pulled hundreds of millions just prior to Haywood's suspension after an adviser changed its recommendation.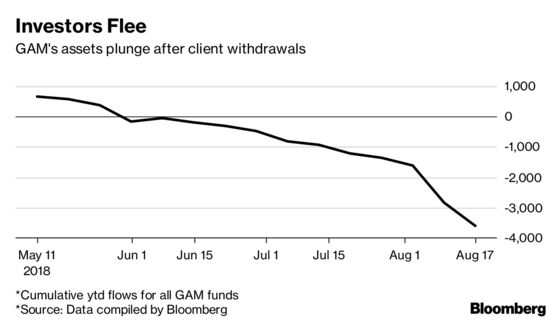 Bloomberg reported earlier this month that an Australian feeder fund that funneled money to the hedge fund lost about A$849 million ($624 million), or three quarters of its assets, within a few weeks. That's equal to roughly 18 percent of total assets in the hedge fund strategy. GAM previously said that withdrawal requests of more than 10 percent within a short period of time would typically trigger a reporting requirement.
"The redemptions from the Australian feeder fund have not significantly affected the size and timing of the expected liquidation distributions," said Elena Logutenkova, a spokeswoman for the firm.
GAM said before that the redemptions from the Australian feeder "followed business as usual meetings with a consultant, which did not include any discussion on the subsequent suspension of Tim Haywood."
While much of the holdings in Haywood's strategies were high-quality, liquid assets such as Treasuries, he also invested in harder-to-sell instruments. Among the investments at the end of June listed in the Absolute Return Bond Fund are transactions with Liberty Industries PPA Limited, a vehicle linked to Sanjeev Gupta's Liberty House Group conglomerate. The fund had also invested in Laufer Limited, a funding vehicle linked to supply-chain finance provider Greensill.
Shares in GAM rose 0.4 percent as of 4:43 p.m. in Zurich as investors gained some certainty on the future of the gated funds after nearly one month. The stock has lost almost 25 percent since Haywood's suspension was first announced.
The asset manager's board of directors and management unanimously felt that suspension was absolutely the right course of action "when faced with a cumulative pattern of potential misconduct," GAM said, adding that a public announcement was required as Haywood had responsibility for a significant proportion of GAM's assets under management.
GAM has said that Haywood may have breached due diligence requirements and signed contracts alone where two signatures were required. Haywood also breached the company's gifts and entertainment policy by not seeking the required pre-approval and used his own personal email for work, the company said this month.
The company says Haywood's alleged transgressions were an isolated incident that hasn't led to losses for clients, and has maintained that the manager's honesty is not in question.
The suspension and subsequent liquidation of funds "has been a difficult process, but necessary to ensure that we deliver on our principles of acting in the best interests of all fund investors and treating them equally and fairly," Alexander Friedman, GAM's chief executive officer, said in a statement.
Because the funds have a mix of mainly liquid assets and some less liquid assets, GAM is seeking to find a balance between returning funds while at the same time wrapping up the liquidation quickly, the company said.
The firm expects to offer alternative structures for clients who want to remain invested with GAM's absolute return bond funds team, with a so-called UCITS fund expected to be available in coming weeks, GAM said. The firm is also setting up a new Cayman fund.