FX Trading Advice at CIBC Skips the Dollar Amid Perplexing Rally
(Bloomberg) -- Some foreign-exchange strategists who are still coming to grips with the dollar's rally recommend staying away from it altogether.
That's the advice from Canadian Imperial Bank of Commerce, whose bearish outlook for the U.S. currency is at odds with its consensus-defying, 4.6 percent climb since mid-April. Rather than engaging with the greenback, CIBC's Bipan Rai recommends focusing on foreign-exchange pairs that don't include the dollar.
Doing so offers investors a way to maneuver the U.S. currency's rally, which CIBC's Rai reckons is probably a result of short-covering rather than a structural shift, while also keeping an eye on what he sees as the big picture -- a robust global growth environment that should benefit currencies such as the euro.
"Sometimes markets can get confused by what can be a tactical trend rather than a more substantial trend," said Rai, an FX and macro strategist.
The Bloomberg dollar index is up almost 1 percent this year, following an 8.5 percent decline in 2017. The currency's rebound has led hedge funds and other speculators to trim their net futures short positions, which touched a five-year high in April.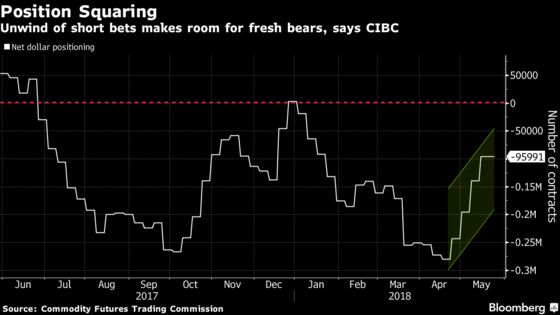 Rai sees value in commodity-linked currencies as crude oil builds on a 14 percent year-to-date rally. CIBC expects the Australian dollar to rise to 1.12 against the New Zealand dollar in the next couple of months, from just above 1.09 currently.
The Swiss franc is also a compelling bet given the market's overly dovish view of the Swiss National Bank's monetary-policy tightening path, according to Rai. CIBC sees a "very good chance" the SNB will raise rates next year, following the European Central Bank. Haven flows into the currency amid a fraught geopolitical outlook offer another tailwind, said Rai.
While the market has turned "skeptical" on the prospect of synchronized global growth that captivated currency traders at the start of the year, CIBC expects that theme to re-emerge by year-end. Expansion abroad should push the euro to $1.23 by the end of 2018, from about $1.17 now, according to Rai.
But until positioning-squaring in the dollar wraps up, the bank is steering clear.
"The strategic view hasn't changed," said Rai. But "we're not in the business of calling the bottom or catching the knife when it's falling."