Fuzzy-Math Claims Sap $924 Million From Tutoring Titan's Fortune
(Bloomberg) -- Carson Block has muddied the waters for TAL Education Group Chairman Zhang Bangxin, whose net worth has tumbled 11 percent since the short-seller accused the Chinese math-tutoring firm of fraudulent accounting.
Zhang's fortune dropped to $7.2 billion Thursday, a day after Block's Muddy Waters issued a report alleging TAL began booking bogus profits as early as fiscal 2016, citing two transactions that inflated earnings by as much as $153.2 million. Chief Operating Officer Liu Yachao's net worth has fallen by $139 million since Tuesday, leaving him with $1.1 billion.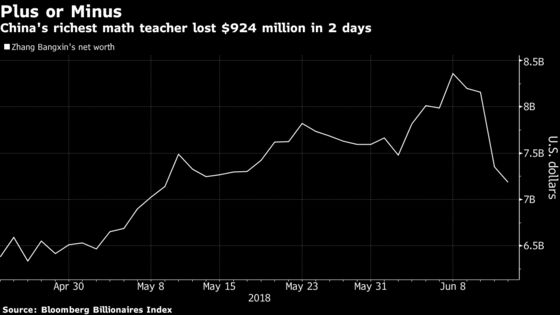 TAL called the report deceptive.
"The allegations made by this short seller contain numerous errors, unsupported speculation and malicious interpretations of events," the Beijing-based company said in a statement Wednesday.
TAL's American depositary receipts, which tumbled 10 percent Wednesday, extended their decline Thursday, dropping 1.5 percent to close at $40.48.