Hours-Long Trading Malfunction Halts World's Most Popular Markets
(Bloomberg) -- A technical error at CME Group Inc forced the world's biggest exchange operator to halt trading for about three hours, preventing the buying and selling of contracts tied to U.S. Treasuries, stock-futures and commodities.
The issue affected a slew of markets, from eurodollars to metals, grains, crude oil and natural gas. CME halted trade from 6:39 p.m. Central Time on Tuesday, with all contracts reopening at 9:45 p.m., according to a statement from the bourse.
Futures contracts on the S&P 500 Index and those on U.S. Treasury yields were little changed after the reopen.
"This is so annoying for our clients," said Hiroaki Kuramochi, global sales trader and chief market analyst at Saxo Bank Securities in Tokyo. "There are some people who make arbitrage trades in after-hours trading. This poses a risk of hurting investor sentiment."
Bursa Malaysia Derivatives, which uses CME Globex as its electronic trading platform for global benchmark crude palm oil futures, also saw a trading halt.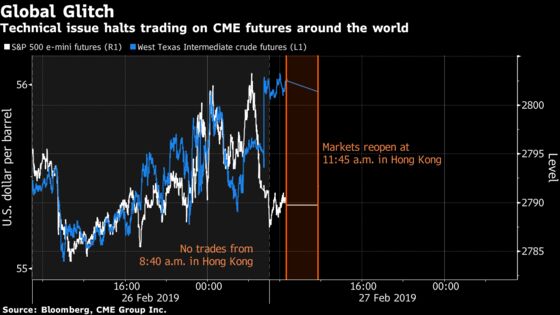 Luckily for traders, markets that were open saw muted price moves. The MSCI Asia Pacific Index of stocks added 0.2 percent, while Brent crude was up 0.7 percent.
Millions of contracts tracking the S&P 500, Dow Jones Industrial Average and Nasdaq 100 trade every weekday virtually around the clock on the CME. For eight hours each night after extended trading ends on exchange-traded funds, they are effectively the only way to express a view on the biggest U.S. equity indexes. Developments in Asian and American politics have made for volatile trading in recent years.
In January, CME-owned BrokerTec, the biggest electronic trading platform for Treasury securities, shut down for more than an hour because of a technical malfunction. It was an outage several traders said caused a market-wide slowdown in one of the world's biggest assets.
"Having so much at stake, it is frustrating to see such glitches and if it happened on a market moving day, then all hell would break loose," Gnanasekar Thiagarajan, head of trading and hedging strategies at Kaleesuwari Intercontinental, said from Mumbai.