Funds Turn Cautious as Philippine Stocks Swept by Record Greed
(Bloomberg) -- As investors buy up Philippine stocks at a record pace, some of the nation's fund managers are selling on expectations that the rally will lose steam amid the uncertain economic outlook.
The Philippine Stock Exchange Index has rebounded nearly 40% from its March coronavirus lockdown low, and the so-called fear-greed indicator, which measures the ratio of buying to selling strength is flashing its most bullish signal on record, showing investors may be becoming complacent. Optimism over the easing of more restrictions in the capital region this month has helped share prices rise despite an economy that's headed for its first recession since 1998.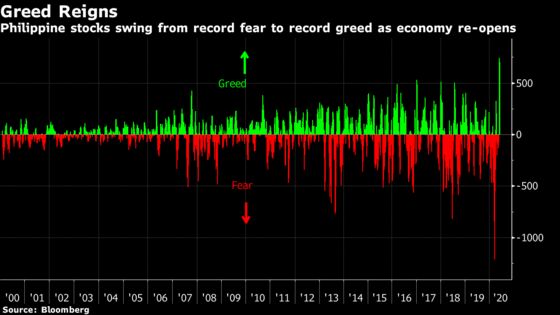 The government's forecast for growth to rebound to 8%-9% next year and analyst estimates for 2021 earnings to climb about 25% are fraught with uncertainty, according to Gerard Abad, chief investment officer at AB Capital & Investment Corp.. He said he's taking profits amid the rally, further raising portfolio cash beyond his normal 5% level.
"Some are betting on a 2021 rebound but the picture isn't clear at this point," said Abad, who manages about 25 billion pesos ($500 million) in assets. "For example, have banks already made enough provisions for bad loans? Will a strong comeback in consumer demand materialize? There's still plenty of land mines."
Cracks may be starting to appear in the equity recovery, with the PSEi falling 2.2%% Wednesday, its worst drop in a month, after data showing Philippine exports slid in April by the most in 11 years. A resurgence of the virus also poses a risk, as infections in the country have risen by an average of 545 per day this month, up from about 310 in May, according to government data compiled by Bloomberg.
Still, the nation's stocks are up more than 10% in June, on track for the best monthly gain since 2010. The peso climbed to its highest level since January 2018 this month, rising in line with peers in emerging markets as the easing of restrictions globally spurs appetite for risk assets. Philippine local currency bonds have returned more than 10% this year, the top performer in emerging markets after Argentina, Bloomberg Barclays indexes show.
Noel Reyes, who helps manage about $1.2 billion as chief investment officer at Security Bank Corp., said its too early to say Philippine stocks are in reversal mode. "What we have is momentum from pent-up demand released by the economy's reopening," he said.
Reyes said it's tougher to trade now that share prices have risen sharply even as the pandemic's full impact on consumer and government spending are just unfolding. His stock holdings are neutral to slightly underweight relative to the benchmark.
The PSEi is now trading at around 16 times analysts' 12-month earnings estimates, near to recovering its five-year average after plummeting to an 11-year low in March of just over 9 times. The sharp bounce raises questions over whether multiples have become stretched, especially given the uncertain outlook.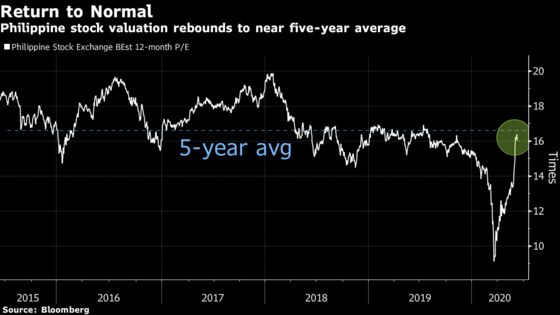 "It's hard to justify that kind of valuation when you know corporate earnings and the economy look ugly," said AB Capital's Abad. "I'd ride the rally but stand ready to sell as there could be a sudden rise in infections which could quickly overturn sentiment."
Market observers polled by Bloomberg say Philippine stocks could pull back once second-quarter earnings and economic data are reported, showing the extent of the pandemic's toll. They don't think the virus selloff-low will be tested though, thanks to the 1.7 trillion pesos fiscal and monetary support released to prop up the economy.
"The government support adds confidence that the bottom we saw in March is already the bottom," said Junie Banaag, who helps manage 68 billion pesos in assets for Philippine American Life & General Insurance Co. and affiliates. He said the trough valuation in March is a "rare event" with about a 0.1% probability of it happening again.