Funds Are Shorting the Dollar After Fed's Dovish Pivot
(Bloomberg) -- The Federal Reserve's dovish shift is beginning to diminish the dollar's appeal for currency speculators.
A Citigroup Inc. index has dropped below zero for the first time since March 2018, indicating currency funds are holding net short positions on the U.S. currency. That signals further dollar gains may be hard to come by after the greenback's longest winning streak in three years.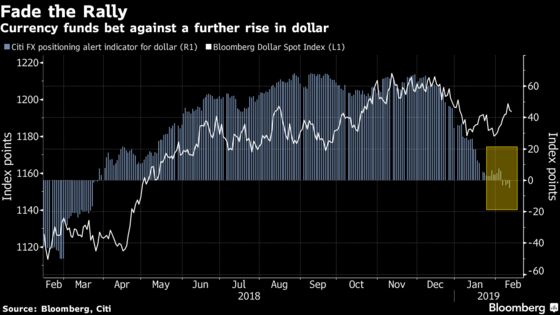 "The Fed has become much less willing to hike, and there's even a chance for a rate cut this year," said Toshiya Yamauchi, chief manager for foreign-exchange margin trading at Ueda Harlow Ltd. in Tokyo. "This has eroded the dollar's yield advantage, leading to dollar shorts."
The Bloomberg Dollar Spot Index gained 0.1 percent as of 10:09 a.m. London time, having dropped Tuesday after an eight-day rally. That winning streak followed the Fed's Jan. 30 decision -- when Chairman Jerome Powell said the case for further rate hikes has weakened -- that took many investors by surprise.
Even so, economists predict the dollar will weaken against the euro, yen and pound throughout 2019, according to Bloomberg surveys. And with U.S. economic growth and inflation forecast to slow this year, overnight-index swaps have started to price in a possible Fed rate cut. Publication of CFTC positioning data for the greenback since Jan. 15 has been delayed due to the U.S. government shutdown.
"We don't have evidence of strong inflationary pressures and we do have evidence of the growth rate slowing," Fed Bank of Cleveland President Loretta Mester told reporters after giving a speech in Cincinnati Tuesday. "That combination of factors suggests we have this chance to look at how the economy is going to proceed. We don't have to do anything preemptively."