Funds Keep Dumping Blocks of GE Shares at an Exceedingly Rapid Pace
(Bloomberg) -- Unusually large trades in General Electric Co. continue to hit the tape as the stock plunges further, suggesting one or more major shareholders are trying to sell as fast as possible.
Of the 12 largest blocks in S&P 500 Index companies today, nine of them were attributed to GE (when stripping out the market-on-open auctions). Collectively, these trades come out to around 24.3 million shares and equate to a total market value of around $196 million.
This is reminiscent of what we saw last Thursday, when a 37 million-share block after the bell grabbed Wall Street's attention. That was the largest single trade done in GE's common stock all year, when omitting the opening and closing auctions, and a flurry of smaller blocks followed hours later.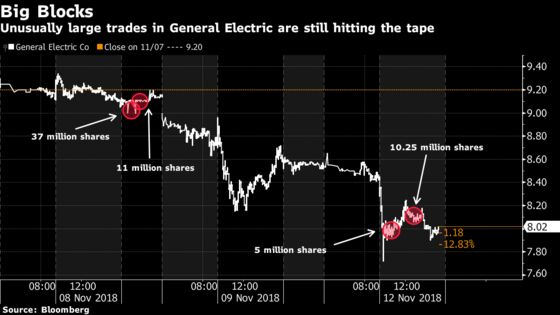 Here's a rundown of today's largest trades:
12:54pm -- Total of 12.25M shares (10.25m at $8.07, 2m at $8.16)
10:55am -- 5M shares at $7.98
12:12pm -- 2M shares at $8.24
10:21am -- 2M shares at $7.98
11:57am -- 967,800 shares at $8.06
10:11am -- 832,932 shares at $8.02
3:10pm -- 775,600 shares at $7.95
9:52am -- 513,471 shares at $8.00
GE shares sank as much as 10 percent to $7.72, which would be the lowest level on a closing basis since March 2009.