Fund That Profited From Turkey Rout Sees Aussie Dollar Slump
(Bloomberg) -- A Sydney-based fund manager that profited from the selloff in Turkey's bonds and currency last month now expects a slump closer to home, as a stronger greenback weighs on the Australian dollar.
The Aussie may fall more than 10 percent to the "mid-60s" U.S. cents in 12 months, said Vimal Gor, head of income and fixed interest at Pendal Group, at a conference Thursday. A hawkish Federal Reserve will continue raising rates "until something breaks," while its Australian counterpart stands pat, he said.
"The U.S. is the only country that's genuinely hiking rates, so the interest-rate differential story is giving a huge tailwind to the dollar," Tim Hext, a Sydney-based portfolio manager in Gor's team, said separately by telephone.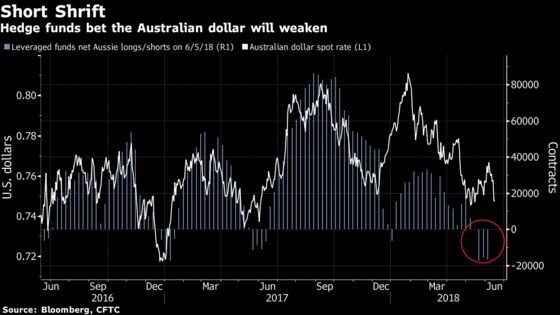 Pendal's view follows the Reserve Bank of Australia's decision to keep interest rates at a record low 1.5 percent last week after a key unemployment metric edged higher. RBA governor Philip Lowe once again highlighted concern over the outlook for household consumption amid sluggish wages growth and high debt.
In contrast, the Fed raised rates this week -- the second time this year -- and upgraded its forecast to four increases in 2018 as unemployment falls and inflation overshoots their target faster than previously projected.
The Aussie has weakened over 4 percent against the dollar this year and is the worst performing Group of 10 currency after the Swedish krona. It fell 0.2 percent to $0.7465 at 2 p.m. Tokyo time on Friday.
Pendal, which bought Turkey credit default swaps in May before investors dumped the nation's assets on economic worries, is an outlier among forecasters who reckon the Aussie will average 80 U.S. cents by the end of the second quarter of 2019.
But the money manager's bearish call is supported by hedge funds that have ratcheted up wagers against the currency, shifting from a net long position in early March to a net short last week, according to data from the Commodity Futures Trading Commission.
"The U.S. dollar should be stronger," Hext said. "With interest rates rising in America, U.S. cash is making a comeback as a viable asset class."