Fuel Prices Set to Take U.K. Inflation Below Target This Month
(Bloomberg) -- Cheaper oil is delivering a boon for Brexit-weary U.K. households and could push inflation below the Bank of England's 2 percent target this month.
Gasoline and diesel prices are set to drop around 1.5 percent after renewing their decline in the latest week, Bloomberg calculations show. With fuel prices rising 0.8 percent in January 2018, all else being equal such a move would be enough to take inflation to 2 percent from 2.1 percent last month.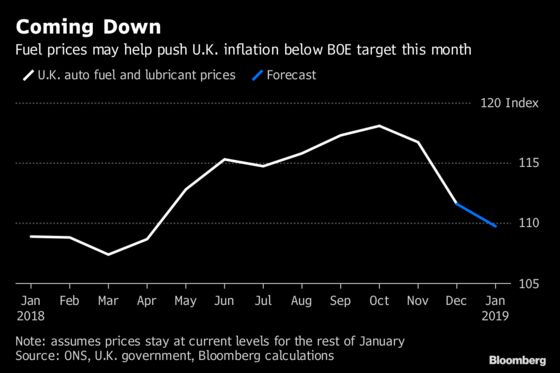 Further downward pressure on inflation may come from clothing and footwear prices, as struggling retailers offer deeper New Year discounts than a year earlier, according to Dan Hanson of Bloomberg Economics.
Cheaper fuel -- prices have fallen by almost 6 percent over the past two months -- has brought down inflation much faster than BOE policy makers expected. It averaged 2.3 percent in the fourth quarter, undershooting their 2.5 percent forecast, and minutes of their December interest-rate meeting revealed they now expect price growth to spend a period below target.
The fall is also bringing relief to households who are now enjoying a long awaited return of real wage growth. Inflation was last this low almost two years ago. It peaked at 3.1 percent in late 2017 after the vote to leave the European Union sent the pound tumbling and made imports more expensive.