FTSE Russell May Start Weighing China Credit for Indexes
(Bloomberg) -- Want the lowdown on European markets? In your inbox before the open, every day. Sign up here.
FTSE Russell may this year begin formally considering whether to add Chinese corporate credit to its World Broad Investment-Grade Bond Index, as it looks ahead to greater inclusion of Asia's biggest economy within its fixed-income benchmarks.
The index compiler, which is currently conducting a separate review due to be announced in September of whether to include Chinese local currency government bonds within its flagship gauges of sovereign debt, said consideration of corporate credit could follow toward the end of this year.
"This is a market that our users cannot ignore" and "it's important to get it right," Chris Woods, managing director for governance and policy at FTSE Russell, said in an interview in Hong Kong on Wednesday. Corporate debt is "the next big thing, but we would like to bed down the framework for government bonds first."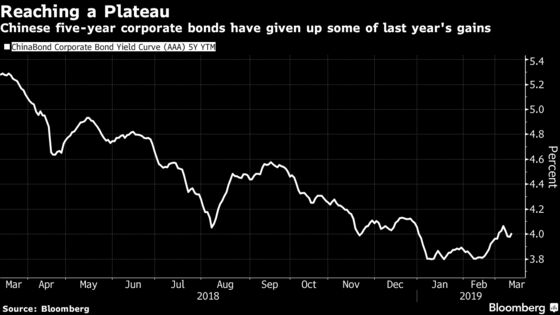 FTSE Russell is in the midst of shifting the way it assigns countries to various indexes like developed or emerging markets, with the intention of providing more transparency to governments, regulators and the public about how it makes the determinations. The upcoming review will affect FTSE's flagship World Government Bond Index and its Emerging Markets Government Bond Index.
"We're being thoughtful about lead times and the process for inclusion," said Nikki Stefanelli, FTSE Russell's managing director and head of fixed income index policy. The potential changes would affect the so-called WorldBIG indexes and clients would also be consulted over a timetable for entry, she said.
The year ahead is expected to bring major shifts in the way that index compilers treat bonds in China. Bloomberg Barclays is due to begin adding Chinese bonds to its Global Aggregate Bond Index in a 20-month inclusion period beginning in April 2019.
Bloomberg Barclays, which like Bloomberg News is owned by Bloomberg LP, competes with FTSE Russell on index benchmarks. JPMorgan Chase & Co. has also placed Chinese bonds on watch for inclusion in its JPM GBI-EM Diversified and EMBI Global Diversified indexes.
FTSE's World Government Bond Index is tracked by some $1 trillion in passive vehicles such as exchange-traded funds, plus an estimated additional $1 to $3 trillion managed by active investors, Stefanelli said.
The index compiler's clients are split on whether to include Chinese onshore government bonds and have raised a number of concerns, with one bloc opposed to the country's inclusion until some specific issues are addressed.
Woods referred to several operational concerns cited by users of FTSE's indexes:
Fears of more aggressive use of capital controls by Chinese authorities
Inability to hedge currency risk onshore outside of custodian banks and sub-custodians, leading to more question marks over pricing
Secondary market liquidity of off-the-run bond issuance
A T+2 settlement cycle that is too short for some Japanese clients, who may prefer longer or a negotiated settlement cycle
The governance framework and review process for the World Government Bond Index and its emerging markets counterpart is being conducted from a technical perspective, and separate from commercial or economic considerations, Woods said.
FTSE will also consider investor readiness for China's inclusion.
While some institutional investors had been extremely aggressive in preparing for China's addition to the major bond benchmarks, other investors were yet to start, said Bryan Collins, the head of Asian fixed income at Fidelity International.
"The operational aspect is relatively easy to fix," he said at a press conference in Hong Kong on Wednesday. "There has been plenty of time to get your systems ready."