U.K. Shares Surge on Brexit Deal, Leading European Stocks Rally
(Bloomberg) -- U.K. stocks led a rally in Europe, with the FTSE 100 Index jumping in its first trading session since a Brexit deal was struck with the European Union.
The FTSE 100 Index rose about 1.5%, closing at its highest level since early March, while the FTSE 250 gained 1.7%, as stocks most exposed to the British economy helped the advance. EU governments have now formally approved the free-trade agreement with the U.K., paving the way for the deal to take effect on Jan. 1.
READ: Property, Outsourcing Stocks Lead U.K. Gains on Brexit Deal
The Stoxx Europe 600 Index was up 0.8%, extending Monday's gains that came amid optimism over U.S. stimulus measures. The benchmark has rallied since the end of October, trimming its annual drop to 3.4% as coronavirus vaccines fueled hopes of an economic rebound, while the U.S. election and the Brexit deal reduced political risks.
"A trade deal gives us more confidence in our bullish view on U.K. equities," UBS Group AG strategists led by Nick Nelson wrote in a note, forecasting the FTSE 100 will end 2021 at 7,200, or about 9% higher than its close. "This removes one of the downside risks to our outlook for European equities."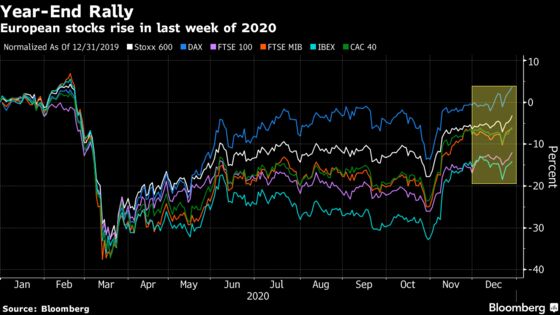 Among individual movers in Europe, Deutsche Lufthansa AG was up 5.6% after the chairman of its Swiss unit said it's able to pay back a government loan and won't need additional borrowings. Germany's DAX Index dropped 0.2% after climbing to a high yesterday.
"It remains fascinating whether stock markets can use more momentum or whether they will suffer from potential profit taking, as the end-of-year rally has already pushed many stocks toward new records and some investors could be tempted to take some money of the table," Comdirect Bank strategist Andreas Lipkow said in an email.
Despite the day's gains, the FTSE 100 is down 12% for the year. U.K. equities have been the worst performers among major markets since the 2016 Brexit referendum, both in local currency and dollar terms. For investors who steered clear of the shares during the period, their cheapness may hold allure as value stocks are forecast to shine in the coming year.