From Fried Food to Gym Fees, It's All Securitized Now
(Bloomberg) -- Bankers are repackaging everything from fast food franchises to fitness-center fees into bonds at the fastest clip since the global financial crisis as investors chase yield and inflation protection.
This year's sales of U.S. asset-backed securities have already surpassed $300 billion, according to data compiled by Bloomberg -- and more is expected by year-end. Post-crisis issuance records have also been set in private-label commercial mortgage bonds and collateralized loan obligations, which are also seen accelerating.
"Solar, consumer loans, container lease and whole business transactions to some degree all offer attractive yields and spreads," said Dave Goodson, head of securitized credit at Voya Investment Management. "These so-called esoteric sectors remain well supported with plenty of money to invest." 
On Monday, Self Esteem Brands, a franchiser of businesses including its flagship gyms Anytime Fitness, priced a $505 million ABS that was backed by franchise agreements, royalties and fees. In whole business securitizations like these, companies mortgage virtually all their assets.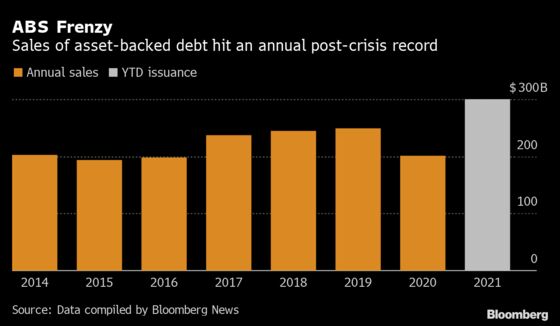 Last month, fried chicken restaurant chain Church's Chicken sold a $250 million securitization backed by franchise and royalty collateral. Golden Pear Funding recently securitized litigation fees related to financial settlements on everything from personal injury cases to wrongful convictions. And Oasis Financial priced a similar deal linked to payments on medical liens. 
The ABS sales deluge has been so intense that it's started to weigh on pricing, especially for bonds backed by subprime auto-loan and student-loan payments. Despite this, investors sound bullish, given a positive consumer-credit outlook, boosted by pandemic-era stimulus checks.
"There is robust underlying recovery values for everything from cars to homes. The underlying collateral of a lot of ABS does well with inflation," said Daniel Lucey, a senior portfolio manager who invests in securitized credit at SLC Management. "In a low-yield, high-inflation environment, securitized debt is attractive versus short-term corporate debt on both a spread and yield basis."
Goldman Sachs last week told investors to rotate out of corporate bonds and into ABS and other securitized debt, as inflation boosts wages and increases the value of cars and homes. Its strategists said valuations look better in securitized bonds than in corporate bonds on a historical basis.
Tight spreads and negative returns for most of the fixed-income world make lower-rated credit a good bet for next year, according to JPMorgan.
Full-year junk returns probably will come in below the coupon rate at 4.4%, the JPMorgan analysts wrote

But that's still attractive compared with negative total returns projected across fixed income

Surgical and orthopedic equipment maker Avalign Holdings Inc. is among companies taking a hit from supply chain woes and a tight labor market
U.S. courts saw two large bankruptcy filings last week, marking the fourth straight week with at least two new, big cases
For deal updates, click here for the New Issue Monitor
For more, click here for the Credit Daybook Americas
Higher risk premia for European investment and speculative-grade debt are on the horizon in 2022 as central banks begin winding down stimulus programs in an effort to dampen inflation, according to outlook notes by JPMorgan, UBS and BNP Paribas.
There were 12 issuers and 12 tranches that raised 10.1 billion euros ($11.4 billion)

At least half of Tuesday's dozen deals are either earmarked for environmental and/or social uses or tied to issuers' ESG performance

The European Central Bank's efforts to help ease a shortage of German government bonds that has congested financial markets in the euro area will likely be insufficient, say analysts
The ECB's Governing Council member Francois Villeroy de Galhau said the central bank was "serious" about ending its emergency bond-buying program in March 2022
Asia's primary dollar bond issuance picked up slightly, with two firms pricing new offerings. 
Shandong Energy priced a $500 million three-year bond sale and Chengdu Communications Investment Group sold $600 million of debt
Some bondholders of Kaisa Group Holdings' offshore debt have hired advisers as the Chinese developer faces mounting refinancing risks, people with knowledge of the situation said
Japanese markets were closed for a national holiday on Tuesday