French 'Yellow Vests' to Continue Protests Despite Macron Plea
(Bloomberg) -- Organizers of the demonstrations that blocked roads across France for 10 days say they are unimpressed by the government's response and have called for another protest Saturday in Paris even after last weekend's turned violent.
President Emmanuel Macron said Tuesday he heard the "deep anger" against the rising cost of living and offered "adaptations" to controversial energy taxes, while vowing to stick with his ambition of making France a "de-carbonated economy" by 2050.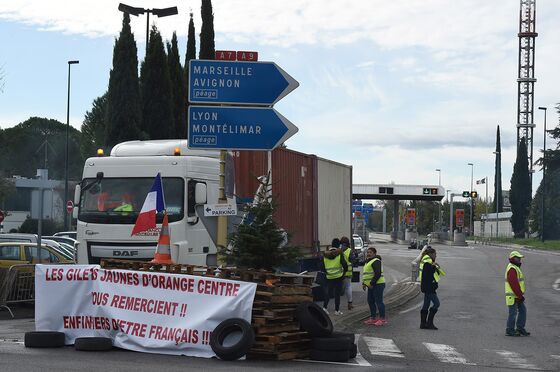 "It's not enough; the French were not convinced," Eric Drouet, a spokesman for the grassroots movement dubbed the "Yellow Vests," told reporters after meeting Energy Minister Francois de Rugy late Tuesday evening. "There will be a demonstration next Saturday on the Champs-Elysees. Our wish is to do it every Saturday."
The protests, which began as online petitions against gasoline taxes, have temporarily blocked roads, warehouses and fuel depots across France for almost two weeks, and those last Saturday led to clashes with police in central Paris.
Monday, eight spokespeople for the movement formed a more permanent committee and have listed demands that go beyond just lower gasoline prices to include cutting politicians' salaries, increasing pensions, and restoring the wealth tax that Macron eliminated last year. Drouet and Priscilla Ludosky, another organizer, met Tuesday with de Rugy, but French media say other "Yellow Vests" contest the self-declared spokespeople.
In a speech on France's 10-year energy road map Tuesday in Paris, Macron said he's seeking to respond both to the protest over the cost of living while also addressing concerns about climate change. The government will "adapt" future fuel-tax increases to oil market moves, lowering the tax when oil spikes, he said.
Asked about gasoline taxes, Prime Minister Edouard Philippe said Wednesday on BFM TV that an increase would go ahead as planned on Jan. 1 though taxes would be reviewed every three months to adapt to market moves. He declined to say how such a mechanism could work, saying it had to be discussed in the National Assembly.