Freeport Seals Pact With Indonesia on Giant Grasberg Mine
(Bloomberg) -- Freeport-McMoRan Inc. and Indonesia signed a binding landmark agreement for the U.S. miner to hand over majority control of the giant Grasberg copper and gold mine to a local state-owned firm, in the country's biggest ever divestment by a foreign resources company.
Freeport Chief Executive Officer Richard Adkerson and PT Indonesia Asahan Aluminium President Director Budi Gunadi Sadikin signed a divestment deal and two other pacts in Jakarta on Thursday. The transfer of majority shares to Asahan Aluminium will happen once the company makes a payment of $3.85 billion to Rio Tinto Group and Freeport, Sadikin said.
The U.S. producer will continue to operate the mine under the agreement, which culminates more than a year of talks. The accord will allow Indonesia to issue a special mining license for Freeport to run the world's second-largest copper mine through 2041. Freeport and Asahan Aluminium, known as Inalum, will complete the transaction before the year-end, Sadikin said.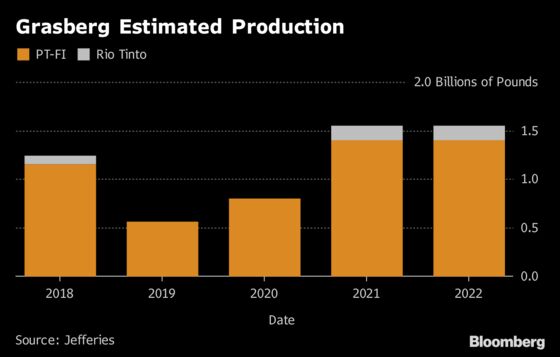 The extension of the mining license, known as an IUPK, is the "government's commitment to maintaining the investment climate so as to provide certainty and security to foreign investors to invest in Indonesia," Energy and Mineral Resources Minister Ignasius Jonan said in a statement.
Under the deal, Rio Tinto Group will cash out its economic interest in Grasberg for $3.5 billion, leaving Freeport's share of the payment at $350 million. Inalum's stake in the asset rises to 51 percent from just over 9 percent now.
Freeport's Adkerson described the agreements as "definitive" and "really significant and positive steps." Rio's economic interest will be converted into shares and transferred to Inalum under the deal, he said.
Adkerson doesn't see any further hurdles in completing the transaction though getting approvals of anti-trust agencies across the world may be time-consuming, he told reporters after the signing. Freeport will continue to operate the mine and the company has agreed to build a copper smelter in exchange for the license extension and fiscal and legal stability, he said.
Freeport and Inalum still need to finalize several documents and permits before the payment is made and share transfer executed, Sadikin said. Inalum expects to mobilize the funds for the acquisition by November at the latest and the company is weighing a global bond issue to help finance the deal, he said.
Freeport's local unit is drafting a roadmap to manage all environment-related issues, Minister for Environment and Forest Siti Nurbaya said in the statement. Freeport was blindsided by new regulations around tailings waste this year, prompting Adkerson to seek a resolution before signing the stake transfer.
The "agreement is only one of numerous documents that have to be drafted, negotiated, settled and signed," said Bill Sullivan, a lawyer specializing in mining at Christian Teo & Partners in Jakarta. Progress toward completing the sale "is a good thing for Indonesia and for foreign investors given how long the dispute between Freeport and the government has been ongoing."