Frazzled Chart Watchers Pin Hopes for a S&P 500 Bounce at 2,800
(Bloomberg) -- At this point they'll take anything if it slows the drop. But analysts looking for support levels in the S&P 500 Index are casting a particularly hopeful eye on 2,800 as a brake in the biggest rout of the year.
It's an irony lost on no one, that a level that for three months offered fierce resistance on the way up, might also serve as a floor in a sell-off. Three different advances stalled there in the fourth quarter and the number is not far off from the five-year average price-earnings ratio of 16.6 using analyst operating income estimates for 2019.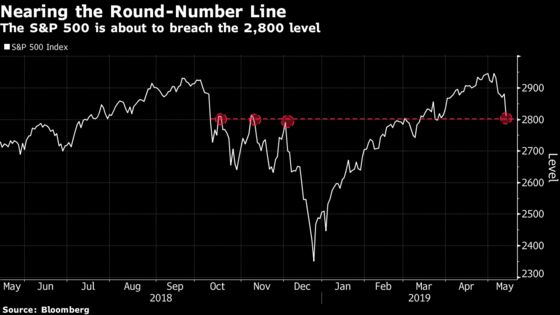 "Big round numbers have big psychological effect, if nothing else, around 2,800," Rich Ross, head of technical analysis at Evercore ISI, said by phone. "There's a good chance that we can hang on to 2,800. Cross-asset backdrop across currencies, commodities, interest rates and credit is still fairly tame. But lets say people bought a breakout above 2,800 and now you're getting to the point where you're getting underwater. That can create some selling pressure as well on a market that's already experienced some selling pressure."
The S&P 500 slid 2.3 percent to 2,814.48 at 2:10 p.m. in New York. The index fell as low as 2,801.43 earlier in the session.