Frazzled Investors Just Traded a Record $800 Billion of Stock
(Bloomberg) -- The epic sell-off in U.S. stocks has set another record.
Almost $800 billion worth of shares changed hands on exchanges in the U.S. on Thursday, the most since Bloomberg began tracking such data 2008. Volume skyrocketed as equity loss snowballed, with the S&P 500 plunging 4.4%.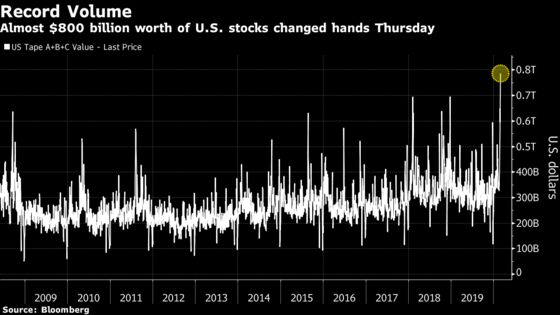 On a contrarian basis, the spike could end up being good news for bulls looking for signs that the week-long, gut-wrenching rout is exhausting itself. Analysts who watch sentiment to predict market moves usually view the rush to sell as an indication that bears may be tiring out. Down 11% over four days, the S&P 500 now headed for its worst week since the 2008 global financial crisis.
"That sure looks capitulative to us," said Russ Visch, a technical analyst with BMO Capital Markets.
The pervasiveness of selling has few precedents. At midweek, a measure of breadth on the New York Stock Exchange, plotting rising and falling shares, had its worst reading of the bull market. In the Nasdaq 100, a gauge of the magnitude and persistence of price swings known as the 14-day relative strength index at one point posted its steepest four-day decline on record. It was worse, even, than during the bursting of the dot-com bubble.
Of course, a record in "value traded" is partly testament to the high price tags stocks currently carry. Buying a hundred shares of Amazon costs $188,400 today, compared with $12,871 on the date of the May 2010 flash crash. So while the value of volume Thursday was the highest ever, the number of shares changing hands was 19% less than on May 6, 2010.