France Extends Green Bond Lead With $8 Billion Sale of New Debt
(Bloomberg) -- France amassed its biggest-ever green bond orderbook in its second sale of new debt, extending a pole position in the market to finance environmental projects.
The nation raised 7 billion euros ($8.3 billion) from the securities maturing in 2044. Investors bid over 34.5 billion euros, about 50% more than for its first such offering in 2017, reflecting the surge in appetite for assets aimed at mitigating climate change. That still lagged the records set in Italy's recent debut deal.
Tuesday's sale keeps France setting the pace for volume in one of the fastest-growing sectors in global finance. Yet it's now facing competition for green investors from a host of newer entrants, including Germany, and is likely to be overtaken by the European Union after the bloc starts selling debt to finance its recovery from the pandemic.
"There's increased demand for green bonds driven by investor demand, the regulatory push and sharpening of green support from the European Central Bank going forward," said Sylvain de Bus, deputy head of global bonds at Candriam Belgium.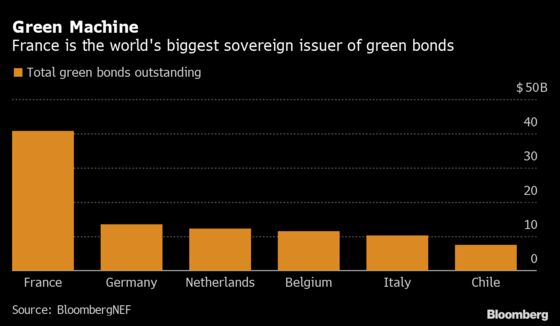 France priced the notes at 18 basis points above the government's existing debt, inside an initial target of about 20 basis points, according to a person who wasn't authorized to speak publicly and asked not to be identified. The Paris-based debt agency said record-low interest rates have left investors clamoring for longer-dated assets.
Proceeds from the new sale will go toward financing 15 billion euros of eligible green projects, Anthony Requin, head of France's debt agency, said last week. The nation has previously tapped its 2039 note -- first offered four years ago -- multiple times to borrow an unprecedented 28.9 billion euros, according to data compiled by Bloomberg.
For a single sale, France's effort was topped by Italy's first green bond earlier this month, which drew over 80 billion euros of bids and raised 8.5 billion euros, both records. France's offering was managed by BNP Paribas SA, Citigroup Inc., Credit Agricole SA, HSBC Holdings Plc and JPMorgan Chase & Co.
The French offering lifted Tuesday's marketwide issuance in Europe's primary market to 17.8 billion euros.
The day's transactions include two euro-denominated and one pound-denominated bonds from Goldman Sachs Group Inc

Spain's Banco Bilbao Vizcaya Argentaria SA is selling a senior note, while Standard Chartered Plc is printing a Tier 2 bond

Default risk retreated for both investment-grade and high-yield bonds amid a broader financial market rally
International Consolidated Airlines Group SA hired banks to sound investors for a potential euro-denominated bond
A NatWest Group Plc unit faces the first U.K. criminal charges for failing to comply with money laundering rules over 264 million pounds ($365 million) deposited in a company's account
Investment-grade issuers from countries including China and Malaysia dominated deal flow in Asia's dollar bond market on Tuesday.
At least four borrowers -- Clifford Capital, Beijing Public Housing Center, Hutchison Port and Petronas -- were bookbuilding deals, while Krung Thai Bank and Shuifa Group started investor calls for a proposed dollar note
Dollar bonds of Yuzhou Group and Kaisa Group rose, Bloomberg-compiled prices show
Junk bonds are about $9 billion away from making this the second busiest March on record for issuance, according to data compiled by Bloomberg. With more than $27 billion already sold this month, that could happen as soon as this week with more companies expected to hit the market to lock in low borrowing costs.
Six companies tapped the U.S. investment-grade bond market

Projections for the week call for around $35 billion with a potential jumbo bond in the works

For deal updates, click here for the New Issue Monitor
For more, click here for the Credit Daybook Americas