France ETF Loses Cash as Brexit, Trade Risks Pressure Stocks
(Bloomberg) -- Investors yanked cash from the largest exchange-traded fund tracking French stocks as the nation's most important companies have become uniquely exposed to an idiosyncratic mix of trade risks and Brexit concerns.
The $644 million iShares MSCI France ETF, or EWQ, saw $106 million of outflows on Monday, the most for a single day in more than a decade. A chunk appeared to come from one investor, as a block trade of 2.5 million shares worth more than $71 million printed just after the market closed Monday. The fund has fallen more than 10 percent this year.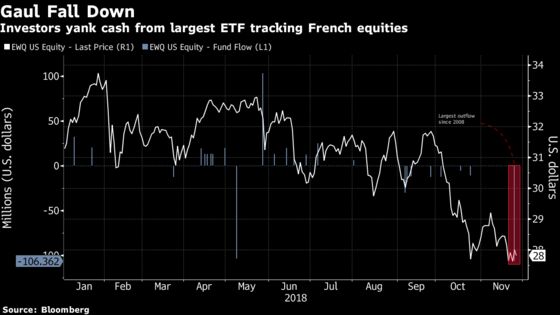 France has a lot of cyclical companies, and they're uniquely exposed to trade, economic slowdowns and Brexit fears, according to Andy Wester, a senior investment analyst at Proficio Capital Partners.
"A lot of it has to do with the performance of the actual index constituents, and there's a lot of consumer discretionary in EWQ's holdings, which underperformed in the recent correction," Wester said. "Also, the biggest weighting is Total, which is an energy company that's had a hard time with low oil prices."
Luxury goods makers like LVMH Moet Hennessy Louis Vuitton SE and Kering SA have suffered this year amid fears of slowing growth from tariffs and concerns that Chinese consumer will curtail shopping in light of the country's import laws. Both companies have fallen more than 17 percent since the start of October. LVMH is EWQ's third largest holding, making up 5.7 percent of the portfolio.
In addition, Airbus SE, the ETF's fourth largest position, has warned of the fallout from a no-deal Brexit that could bring hard borders and a lapse in regulatory approvals. The aerospace company is preparing to stockpile parts to maintain production rates in case of customs delays.