Four Option Trades Leave Marks of $1 Billion Stock Liquidation
(Bloomberg) -- A series of U.S. options trades over the last few days have the fingerprints of institutional investors exiting big stock positions while preserving their ability to profit from rallies.
While nothing in the markets is ever 100 percent certain, the transactions have identical profiles and would be consistent with a strategy sometimes employed by big fund managers or other large investors to raise cash to meet client redemption.
Between Friday and Monday's trading sessions, close to $1 billion of stock has been sold across four separate names. That exposure appears to be replaced by bullish February risk-reversals where the trader has bought call options and sold put options. These specific trades allow the investor to reduce their capital exposed in the market while both participating in a rally or potentially buying back the stock at a lower price by the expiration date.
The shares sold accompanying the risk-reversals across DXC Technology Co., Charter Communications Inc., Bristol-Myers Squibb Co. and Halliburton Co. averaged about $242.6 million. The put options had strike prices that averaged 1.7 percent below where the blocks were sold, indicating the level at which the investor would be buying back the stock. Call strike prices averaged 1.8 percent higher.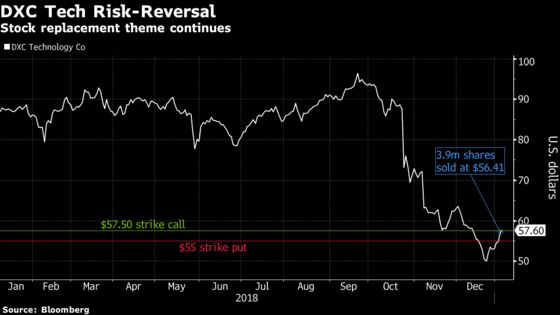 Whether these trades indicate one institution freeing up capital to meet redemption requests or multiple investors simply lowering their gross exposure, one thing is certain, they don't want to miss an early 2019 rally.