How a Brexit Deal Would Swing U.K. Stocks in Four Charts
(Bloomberg) -- Brexit talks, the source of seemingly endless drama, finally offered the prospect of some clarity this week -- but investors may want to hold their horses.
The EU's chief negotiator Michel Barnier said Monday it's "realistic" to expect a deal on the U.K.'s future relations with the bloc within eight weeks, while the two sides were Wednesday said to be preparing for a special summit in November. That could reduce a major overhang for equities since the 2016 vote: possibly buoying U.K. mid-caps and reversing some of the chronic fund outflows from both Britain and Europe.
But while Barnier's remarks came as a relief, especially after U.K. officials floated the possibility of a no-deal Brexit just a month ago, little is known about how close ties between the two sides will remain after the split. Some of the trickiest decisions will probably be postponed until after Brexit day.
"Markets need greater clarity," said Abi Oladimeji, chief investment officer at Thomas Miller Investments Ltd. in London.
But should talks go well, here's what it might mean for markets:
Large Caps Versus Mid Caps
The most predictable reaction after Brexit is that good news boosts the pound, driving down more globally oriented large caps, but supporting more domestic mid caps. Markets on Wednesday were a good illustration: the pound pared losses after European Commission President Jean-Claude Juncker said he would work "day and night" on reaching a deal, spurring gains in the mid cap index and declines in the large cap one.
But the relationship isn't constant. The 40-day correlation between sterling and the FTSE 100 has turned positive lately as both became increasingly driven by broader macro worries. Lower commodity prices -- partly due to a strong dollar -- have been a headwind for the market.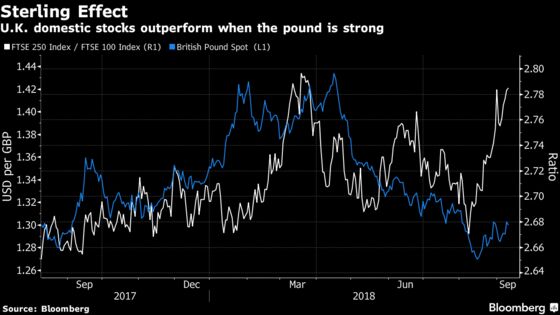 While U.S., Japanese and emerging-market stocks all posted inflows in the past year, U.K. equities have lost about $8 billion, Barclays Plc said in an Aug. 29 report.
Part of this is political uncertainty, and part is simply pound volatility. In dollar terms, U.K. shares just reached the lowest on record versus global stocks, according to MSCI indexes.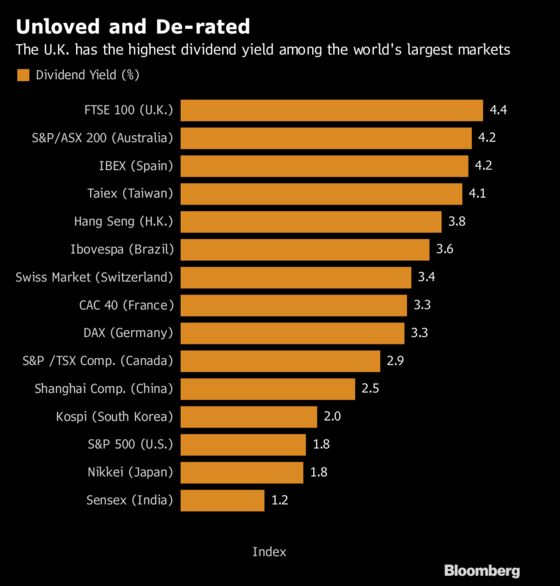 A Brexit deal that preserves close economic ties between the two sides could help reverse some of these outflows, especially since U.K. shares boast some of the world's highest dividend yields.
Europe Risk
Clarity on Brexit is ultimately what global investors need to put money back in European shares, Emmanuel Cau, head of European equity strategy at Barclays, said in an August interview. A favorable outcome -- along with Italy passing a budget without clashing with the EU -- could boost European stocks by narrowing their equity risk premium and reversing the tide of outflows that has plagued European stocks for much of this year.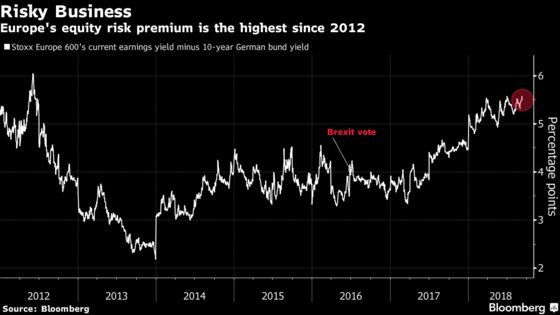 A deal that maintains single-market access across the EU and U.K. would help European exporters, which have suffered amid concerns over U.S. tariffs, said Edward Park, investment director at Brooks Macdonald Asset Management Ltd. in London.
A few questions remain despite the recent optimism:
Will a deal between the U.K. and EU be able to pass the British parliament? That's another hurdle for markets, Brooks Macdonald's Park said.
How will the agreement affect the dynamics of U.K. politics? Fracturing of the Conservative Party may lead to a Labour victory in a general election, which may be less market-friendly and have a big impact on industries such as banks and utilities, said Roger Jones, head of equities at asset manager London & Capital.
Will a good deal pave the way for more countries leaving the EU in the future? Growing rifts within the bloc raise political risks.