Four Charts Showing How Nervous European Stocks Are: 'Extremely'
(Bloomberg) -- When it rains, it pours. That's how European markets felt like as the equity benchmark slid to a six-month low this week amid a flood of bad news.
Italy's populist leaders are flouting financial markets and sticking to their aggressive fiscal policy -- just as global equities reel from a jump in bond yields amid continued monetary tightening in the U.S. Meanwhile, European industries such as semiconductors and chemicals are flashing signs of weaker demand, and luxury darlings are facing a customs crackdown in China.
"I don't think I'll be sticking my neck out by saying markets are extremely nervous," said Michael Ingram, chief market strategist at WH Ireland in London. "The punchbowl is now being removed and the hangover is going to be absolutely horrific."
Here are four charts showing rising caution in European markets: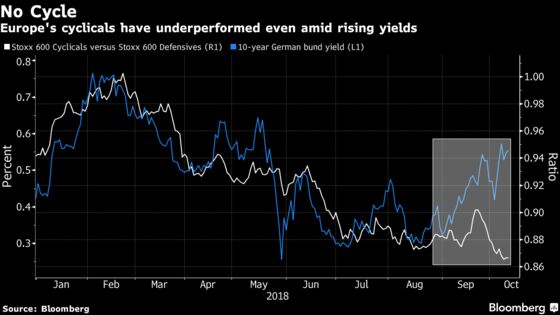 The relative performance of Europe's cyclical sectors has decoupled with bond yields. While rising yields typically signal good news for economically sensitive industries, defensives are making a comeback amid widespread caution. The region's largest cyclical industry -- banking -- is a good illustration: With Italy's debt sustainability in question, banks' performance has fallen behind yield increases.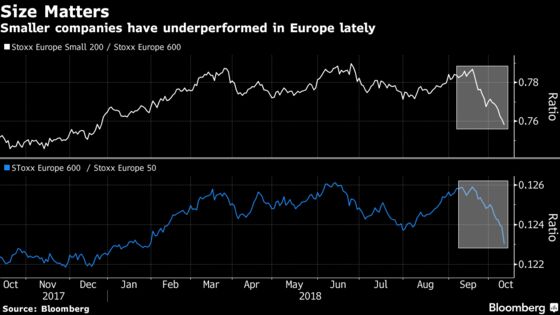 In times of fear, bigger is better. An index of small caps has plunged to the lowest versus large caps since December. And even among large caps, the giants have fared better.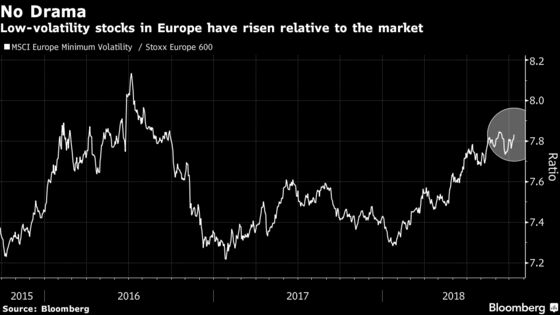 An index of low-volatility stocks in Europe is now near the highest versus the large-cap benchmark since September 2016.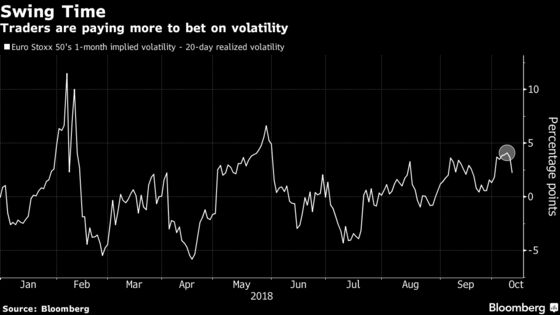 The gap between the Euro Stoxx 50's one-month implied volatility and its 20-day historical volatility -- a reflection of the premium investors are paying to bet on swings -- reached the widest since May this week.
"It seems like the 'surge' in bond yield (in the U.S. and Italy) have caught market participants off guard," said Stephane Ekolo, equity strategist at TFS Derivatives Ltd. in London. While the overall macro picture is still positive for equities, "quite clearly, market participants are switching into risk-off mode," he added.