Fortnite Gives Headache to Game Makers EA, Take-Two and Ubisoft
(Bloomberg) -- If the reaction to earnings from Electronic Arts Inc. and Take-Two Interactive Software Inc. is anything to go by, video-game companies that don't make the smash hit Fortnite could have a problem.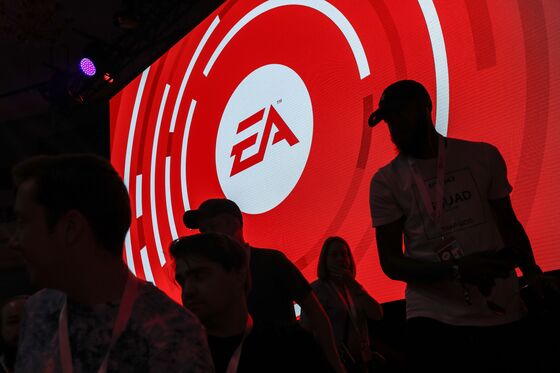 There was no late Christmas present from Electronic Arts' latest Battlefield title -- it was a flop, and EA's shares are tanking 15 percent in pre-market trading Wednesday in the U.S. While Take-Two's Red Dead Redemption 2 had a strong launch last year, the company forecast that earnings for the current quarter will be below analyst estimates, sending the stock down almost 10 percent before U.S. exchanges opened.
The pessimism spread to Europe, where Assassin's Creed maker Ubisoft Entertainment SA felt the knock-on effect and dropped 6.8 percent.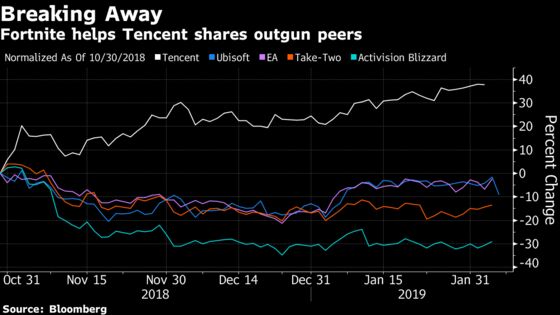 The problem? Fortnite has taken the gaming world by storm, sucking up players' time and money. The game is free to download and play, with the developer making money off of in-app purchases and subscriptions. That's putting pressure on traditional games, which carry a hefty price tag.
The video-game industry is going through "intense competition and transformational change," Electronic Arts Chief Executive Officer Andrew Wilson said in the company's earnings statement after the stock market closed Tuesday.
Fortnite, a battle royale-style online multiplayer game, is made by Epic Games, in which Tencent Holdings Ltd. bought a 40 percent stake in 2012. Red Dead 2, set in the Old West, is the product of Take-Two subsidiary Rockstar Games Inc., which is also responsible for the Grand Theft Auto series.
As the world's biggest video-game names battle for players' screens, Tencent's shares have outperformed peers.
Even if this results season could be a tough one for its competitors, there could be better times ahead as analysts expect competition to ease in 2019. Analysts at Berenberg wrote in a note that their research suggests Fortnite's growth is moderating, while there is unlikely to be a game as important as Red Dead 2 in 2019.
"We believe that near-term wobbles have actually been caused by a particularly tough competitive environment this holiday season versus that in 2017," they said in a Jan. 29 note. "This is not a positive, but there is comfort when we look into 2019 and see these competitive headwinds easing."
Ubisoft reports quarterly sales on Feb. 14.