Former Mobius Associate Has Big Plans for $15 Billion Fund Firm
(Bloomberg) -- Dennis Lim is taking a break from his retirement to help turn around Thailand's oldest mutual-fund company.
It's a new adventure for the 59-year-old, who left Templeton Asset Management Ltd. in 2017 after almost 27 years. In a bid to lure new local and international investors, he will open MFC Asset Management Pcl's first overseas office in Singapore this year. The firm currently manages about $15 billion in assets.
"I can't resist the challenge to come here and turn this old Thai company into a regional company with my global expertise and knowledge," said the MFC Asset president -- the only foreigner among about 300 employees -- in an interview at his office in Bangkok this week. He was appointed late last year and joined the firm in January.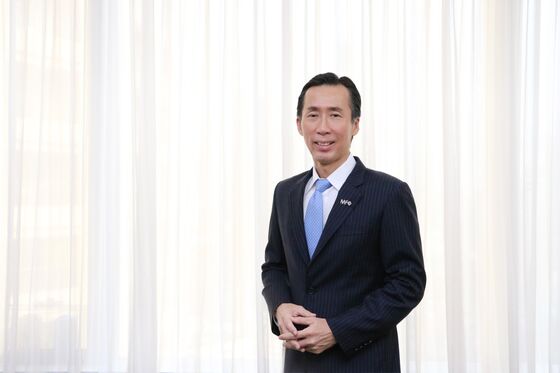 Thailand's only publicly traded mutual-fund company was founded by the government and the International Finance Corporation in 1975, according to its website. The Ministry of Finance, Government Savings Bank and Country Group Holdings Pcl are major shareholders.
While its Satang Daeng Two and Property Wealth funds beat more than 94 percent of their peers in the past three years, a plunge in fees and commission income has sent MFC Asset's profit down more than 57 percent between 2013 and 2017, data compiled by Bloomberg show.
Like MFC Asset, Siam Commercial Bank Pcl, Kasikornbank Pcl and most other Thai financial institutions have expanded their wealth-management operations to counter the slump in fee income. Other international firms such as Credit Suisse Group AG and Julius Baer Group Ltd. are also increasing their presence in Southeast Asia's second-biggest economy to tap the rising number of millionaires.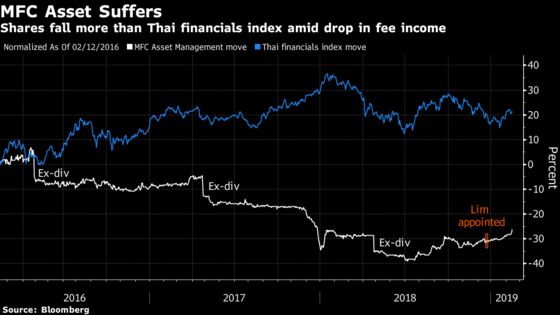 To broaden MFC Asset's research on international markets, Lim plans to hire a chief investment officer in the Singapore office as well as three to four investment professionals. He's also looking to employ a new CIO in Thailand to help improve the firm's performance. MFC Asset, which targets wealthy investors in Southeast Asia, will rely on computer technology and innovations to distribute funds and investment strategies focusing on assets in the region, Lim said.
The Singapore national worked his way up to become the co-chief executive officer of Franklin Templeton Investments' unit in the city state. During his time there, he collaborated closely with Mark Mobius, who was at the firm for three decades before setting up Mobius Capital Partners last year. They traveled to places including Russia, Brazil and frontier markets to assess investment opportunities, Lim said.
"The benefits of working 27 years at Franklin Templeton and with Mobius were you learned a lot of things that you couldn't find in the textbooks," he said. "Nothing comes for free. You have to go and get it with hard work."
During his break from the wealth-management industry, Lim taught an investment course at the Singapore Management University. But while he enjoyed his new life with "a lot of time for exercise and swimming," he got curious when he received the call from Bangkok.
"The company is impressive, with the history and background as the first mutual-fund company in Thailand," he said. "I thought it's worth coming here for the challenge and excitement to transform MFC Asset into an international company."