Forget This Year's Highs for European Stocks, Strategists Warn
(Bloomberg) -- In a rollercoaster year, the highs for the European stock market may already be behind us.
Strategists on average expect the Euro Stoxx 50 Index to finish 2020 at a level of 3,098, implying a drop of 4.5% from Tuesday's close. They forecast a year-end level of 367 for the broader Stoxx Europe 600 Index, suggesting a potential gain of just 1%.
European stocks recouped more than two-thirds of the pandemic-induced losses at remarkable speed, before the rebound turned bumpy in June. The Stoxx 600 is regaining some momentum, up again 0.9% on Wednesday, upon news of U.S. fiscal and monetary stimulus plans, after slumping the most since March last week amid concerns about a second wave of coronavirus infections.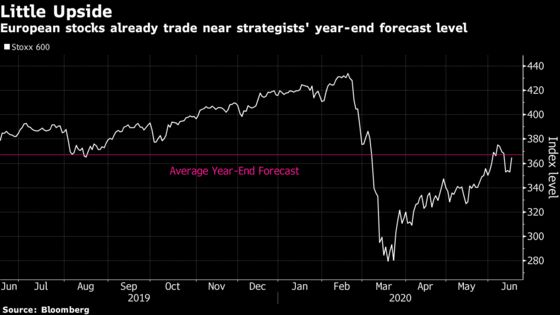 The region's equities may not revisit the doldrums of March, thanks to the massive stimulus programs that are putting a floor to the market, but neither are they seen reaching fresh peaks. Uncertainty remains over the pandemic's impact on earnings and the economy, prompting a wide range in strategists' calls.
Among the most bullish is Deutsche Bank AG, calling for the Stoxx 600 to close the year at 440, or about 21% higher than Tuesday's close. At the other end is Oddo BHF, predicting an 11% drop to 322.
For tables on the Euro Stoxx 50 and Stoxx 600 polls click here; for a table on the DAX poll click here, for a table on the FTSE 100 poll click here.