Things Are Suddenly Turning Against South Korea's Markets
(Bloomberg) -- South Korean markets finished a rough week ahead of a holiday Monday with record foreign outflows in chipmakers and all-time high Covid cases spurring panic selling.
The benchmark Kospi Index fell for a seventh straight day Friday, the won hit a ten-month low and global funds dumped record amounts of key semiconductor stocks such as Samsung Electronics Co. Both Korea's equity market and its currency led losses in Asia this week.
"The won, bonds and stocks are moving in the same direction as Korea loses its allure in the market," said So Jaeyong, an economist at Shinhan Bank. "The South Korean won looks much more vulnerable among emerging Asian currencies and it may drop to as low as 1,190 per dollar anytime."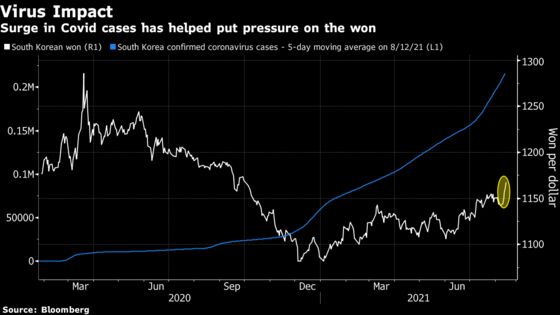 The rapid outflows put a dent in one of Asia's best-performing stock markets this year, underlining the nation's dependency on technology companies to drive growth. Meanwhile, a spike in the delta variant and a low vaccination rate are undermining efforts to contain South Korea's worst virus surge.
With global semiconductor stocks under pressure, foreign funds headed for the exit in the world's two-largest memory chipmakers. This week they sold a net 7.6 trillion won worth ($6.5 billion) of Samsung Electronics and SK Hynix Inc. shares -- including a record daily outflow on Aug. 12. The pair have lost over $55 billion in market capitalization since Aug. 6.
Samsung Electronics slumped about 9% this week, its worst five-day decline since the pandemic outbreak last March.
"Selling sprees by foreign investors on Samsung Electronics and SK Hynix have been very aggressive," said Huh Jae-Hwan, a strategist at Eugene Investment & Securities. "The pain in the memory sector isn't over."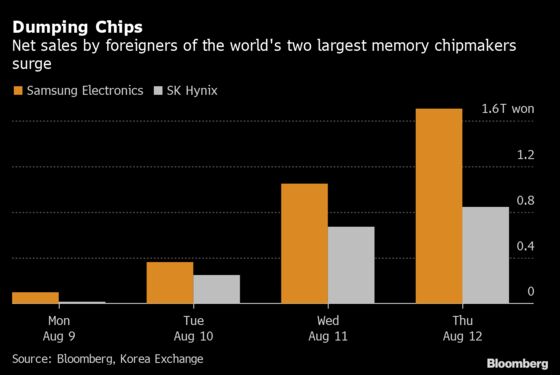 The won declined more than 2% this week to around 1,169 per dollar, while the Kospi has slumped 3%, its worst weekly performance in nearly half a year.
Yield premiums on South Korean corporate bonds have crept higher in recent weeks. Three-year spreads over government debt climbed 11 basis points from this year's low in February to 42 basis points, and are at the highest since June, according to Bloomberg-compiled data.
The currency's sharp decline adds to grounds for a rate hike by the Bank of Korea, which has stressed the need to normalize policy this year. While the won's weakness is often seen as boosting exports, a rapid depreciation heightens concerns over capital outflows and financial market instability. The central bank is scheduled to meet on August 26.
With new daily infections surpassing 2,000 for the first time this week, officials are considering stricter social distancing rules. South Korean prime minister Kim Boo-kyum has asked citizens to refrain from travel this weekend.
Still it's too early to call the "panic selling" on Friday the start of a bear market, according to Han Jiyoung, an analyst at Kiwoom Securities Co. The Kospi is still up 10% so far this year even after the latest declines, outperforming a little-changed MSCI Asia Pacific index.
"I'm sure many people have doubts and anxiety over such unbelievably quick outflows and panic selling," Han said, adding that investors are in part preemptively reducing their positions ahead of a holiday on Monday. "But Korea's stock markets are yet to veer off from the bull market. It's too early to say that the tide has turned."