Foreign-Reserve Managers Cut Yen Assets by Most in Nine Years
(Bloomberg) -- Global foreign-exchange reserve managers cut yen holdings by the most since 2008 in the first quarter as the incentive for holding Japan's currency decreased.
Reserve managers trimmed yen-denominated assets by 2 trillion yen ($18 billion) to 53.2 trillion yen in the three months through March 31, based on International Monetary Fund data after taking account of foreign-exchange fluctuations. They boosted dollar holdings by $217 billion to $6.5 trillion.
Holding yen became less profitable for reserve managers due largely to a swing in dollar-yen basis. The popular trade of using basis as a way to enhance returns, highlighted by the deputy governor of Australia's central bank last year, was impacted by changes in the U.S. tax system and higher Libor rates.
A dollar-based investor who wished to borrow yen in November 2016 could have entered a trade to receive three-month dollar Libor, while paying three-month yen Libor minus 86 basis points. By the end of March this year, the basis portion of the trade had dropped to minus 39 basis points, which means they got paid less to borrow yen.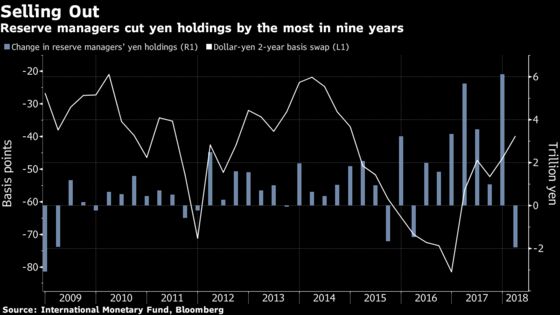 The move in funding markets and cross-currency bases was probably due to new U.S. tax regulations that led foreign banks to substitute foreign-exchange swaps with unsecured funding, Zoltan Pozsar, a former U.S. Treasury adviser and now an analyst at Credit Suisse Group AG, wrote in a March research note. That contributed to tighter cross-currency bases and higher Libor, he said.
Another explanation for the move in dollar-yen basis may have been that higher U.S. Libor deterred Japanese companies from buying dollar assets with currency hedging. In either case, the basis is at fault for making it less attractive for reserve managers to hold yen, according to Takahiro Sekido, a former Bank of Japan official who is now a strategist at MUFG Bank Ltd. in Tokyo.
Still, "the reduction in holdings looks excessive, and there's a good chance reserve money will come back into short-dated yen rates for the remainder of this year," he said.