For Top Japan Fund, Sell-Off Meant Time to Buy Consumer Stocks
(Bloomberg) -- The past few weeks have been tough for Japanese shares. For Sophia Li, the losses were a reason to double down on her bets.
When news about the spreading coronavirus sent the Topix down as much as 4.5% in about four weeks, the portfolio manager at First State's FSSA Investment Managers bought more stocks in the consumer, e-commerce, electronic-component and machinery sectors. While her First State Japan Equity Fund has lost 7.6% in the past month, it's established a solid track record in the longer run, beating 99% of peers over the past three years.
"The short-term market movement could be volatile as the economy is weaker than expected, and the government stimulus is unlikely to be as strong as that of China" if the coronavirus spreads further in Japan, Li said. But even though corporate earnings may be affected in the "very short term," the impact on companies' fundamentals should be limited longer term, she added, noting that Chinese shares have already recovered almost all their virus-induced losses.
"We are intrigued by the fact that investors in Chinese stocks are willing to look past" the virus fears, Li said. "Why not for Japanese equities?"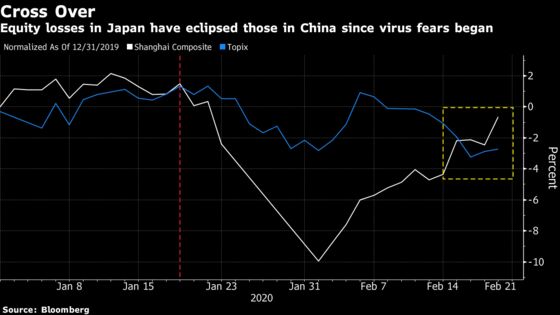 Japan has emerged as one of the riskiest countries for the spread of the virus, with the number of infections there more than doubling in the past week -- not taking into account the hundreds of victims on the Diamond Princess cruise ship docked in Yokohama for two weeks. For equity investors weighing the outbreak's impact, that compounds the impact of the already struggling economy. The nation recorded its sharpest gross domestic product contraction in more than five years last quarter.
The Topix index has been one of the region's worst performers since fears over the coronavirus impact hit the market on Jan. 20. It's managed to eke out gains in the past couple of days, after a seven-day losing streak that was its longest since May of last year.
Consumer names account for about 38% of Li's Japanese equity fund. As of end-December, its top five holdings were Keyence Corp., Kao Corp., Fast Retailing Co., Shiseido Co. and Recruit Holdings Co.