For Quants, Brexit Drama Spurs Biggest Stock Rotation Since 2009
(Bloomberg) -- The robots may have no opinions on the latest U.K. minister resignations but the fallout is spurring huge moves in the stock-picking programs they track.
As markets whipsaw on Brexit turmoil, quantitative investors -- who sort equities by their traits from volatility to leverage -- are seeing so-called factors move to a degree unseen since the financial crisis.
Investors are punishing European value shares, or those priced cheaply, and seeking refuge in companies that tend to post strong earnings. A pure growth index from Citigroup Inc. outpaced value by as much as 1.6 percentage points in Thursday trading -- the widest spread since August 2009.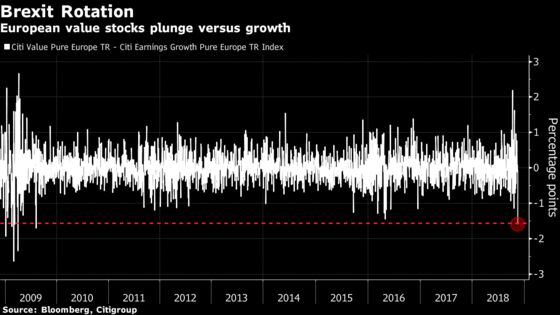 While European stocks sank by less than one percent, this big factor rotation underscores the impact of the U.K.'s unfolding political crisis, which is battering the country's banks anew.
Automakers, already trading at low multiples before the latest Brexit shenanigans, also posted declines as investors fret exposures to the U.K. market and a disappointing report on European car sales.
All of that has sent money managers to growth companies, which tend to post reliable earnings over the economic cycle.
"At times of political uncertainty, when there is a fear that that uncertainty will spill over to the real economy, I would expect cyclical stocks to underperform," said Peter Sleep, senior money manager at Seven Investment Management LLP. "Add to this, the disappointing GDP numbers from Germany, and I am not surprised value is underperforming in Europe."