Momentum ETF Becomes a Big Health-Care Bet After Tech's Stumbles
(Bloomberg) -- Wall Street has a new momentum champion: drugmakers.
The $9.4 billion iShares Edge MSCI USA Momentum ETF, or MTUM, shook up its holdings at the end of November and now has unveiled its latest portfolio of high-flying stocks. Health care's share almost tripled, as Pfizer Inc. and Merck & Co. came in among the ETF's five largest positions.
Technology remains its biggest sector, but the fund cut its exposure to 31 percent from 41 percent following the tech sell-off in November. And it eliminated chipmaker Nvidia Corp. altogether. Meanwhile, the ETF chopped its financial holdings to 2 percent from 12 percent.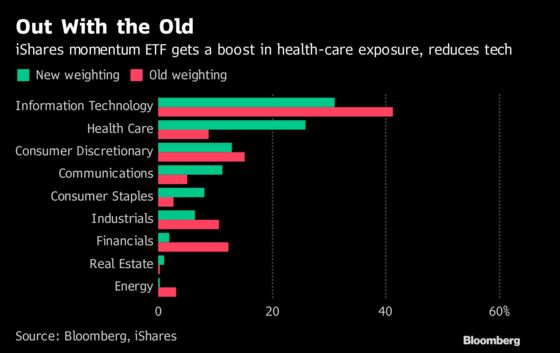 Momentum investing essentially is tracking the current trend, in other words betting that stocks that are rising will keep going up and those that are falling will continue to slide. Despite its association with tech and growth, MTUM is "essentially a chameleon," changing forms to hold whatever's working, according to Bloomberg Intelligence analyst Eric Balchunas.
"MTUM is going through what looks like the beginning of a messy divorce with tech to make way for its new love of health care," he said.
Investors have warmed up to the health-care sector in the wake of escalating geopolitical tensions and a waning appetite for technology stocks. The divided Congress that emerged from the midterm elections also helped ease concerns about disruptive, government-dictated pricing changes for medicine and treatment in the U.S., luring investors back in after two years of underperformance.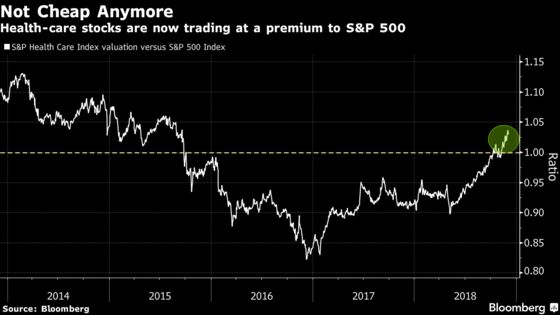 In particular, drugmakers have been on a tear since mid-July, with the S&P 500 Pharmaceuticals Index surging to a record high on Friday. Merck has soared 40 percent this year as it continues to be seen as the winner in immunotherapy based on its blockbuster lung cancer drug Keytruda. Shares of competitors Pfizer and Eli Lilly & Co., a new addition to the MTUM portfolio, are also near levels not seen since the dot-com bubble.
The Street has also become "enamored" with UnitedHealth Group Inc., another recent addition to MTUM, Jefferies health-care specialist Jared Holz pointed out in a note last week. "Have to own it," he wrote, adding that the health insurance conglomerate is "becoming a bit like Amazon" with "tons of moving parts/segments all having facets of growth and market leadership or first to market advantage."
Of course, ETFs aren't the only ones rotating from tech to health care. Mutual funds and hedge funds are doing it as well, according to a quarterly analysis of holdings by Goldman Sachs analysts led by Asad Haider. For hedge funds, health care is now the largest net weighted sector, and it has the largest overweight tilt since 2016, the research showed.