NYC's $45 Billion Luxury-Condo Glut Set to Start Easing Soon
(Bloomberg) -- Manhattan's glut of luxury condos has been nearly a decade in the making. This could be the year the logjam starts to break.
Professional deal-seekers are amassing investment funds, ready to pounce at the chance to purchase unsold apartments in bulk. And developers with towers that started sales years ago are finally dropping unit prices to levels ordinary buyers are willing to pay.
At the same time, lenders are getting more aggressive, moving in to foreclose on long-lingering projects whose builders have fallen into delinquency. Those actions could potentially spill more deeply discounted homes onto the market.
Combined, it could all break chunks off New York's luxury condo iceberg, estimated at more than 15,000 unsold units across 900 projects, largely in Manhattan, with a total listed value of $45 billion, according to real estate data provider Marketproof Inc.
"The supply needs to get absorbed by professional buyers, financial buyers, and that to me is what 2021 is all about," said Kael Goodman, the firm's founder.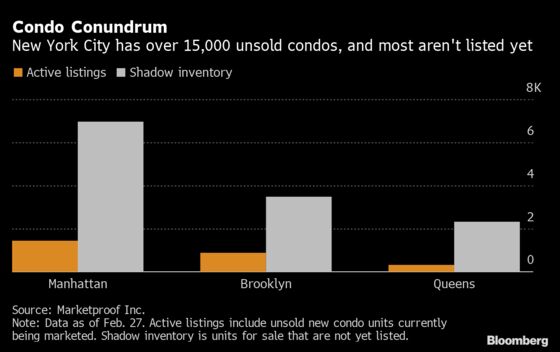 Those shoppers are out browsing. Seth Weissman, managing partner of Urban Standard Capital, is focused on developments that haven't yet sold 15% of their units -- the legal threshold to be declared a condominium under New York state law. There are about 300 such projects in New York City, by Weissman's count. Nearly a third are finished and ready for occupants to move in.
Those builders are in a particular financial pickle: They're responsible for paying real estate taxes and common charges on their buildings' unsold units -- which can run millions annually in addition to loan-service costs -- yet can't rent them out for income. Doing so would derail the legal path to becoming a condo building, and kill off any future sales.
Weissman's firm, armed with a $100 million fund, is offering to buy just enough units at a discount so those builders can meet their 15% sales benchmark. As many as five separate deals "are getting close," he said.
Another investor, Republic, is seeking to raise as much as $50 million for plans to buy out the final 10 to 15 units at some long-lingering projects. The deals would allow weary sponsors to get cash and move on, according to Janine Yorio, the firm's head of real estate.
In one bulk deal this year, Elad Group agreed to sell 70 units at its Charlie West project to Tishman Realty, clearing all but a few of the unsold apartments at the 121-unit property in Hell's Kitchen that's been on the market since 2017.
It's not hard to see why the lender, Israel's Bank Hapoalim, would consent to the sale: Charlie West accounted for 15% of the bank's New York City loan portfolio, according to Marketproof. Clearing the deck takes risk off its balance sheet, as ever more new condos reach the market in competition.
"Time is the worst enemy," said Shlomi Reuveni, president of Reuveni Real Estate, the brokerage that marketed Charlie West to buyers before the bulk sale, which he wasn't a part of. "There's a strong pipeline that's coming, and that has to be contended with. Brand new projects that open up might be more attractive to buyers."
Representatives for Elad and Bank Hapoalim didn't respond to requests for comment. Tishman Realty declined to comment.
Some lenders are getting frustrated with the glacial sales velocity and are stepping in.
After months of negotiating, CIM Group initiated a foreclosure on four Manhattan condo projects by Ziel Feldman's HFZ Capital Group. The lender took control of the developments -- most on the market since 2015 -- in January, according to Brett Siegel, vice chairman for New York capital markets at Newmark Knight Frank, which marketed the properties for auction.
CIM intends to reduce prices on unsold units in the coming months, according to people familiar with the plans. The company didn't respond to a request for comment.
Investor demand to acquire loans on laggard condo projects is mounting, and lenders are increasingly willing to take a more aggressive role in the portfolios they're backing, Siegel said.
"There's going to be foreclosures, there's going to be restructures, note sales, it's all coming," he said. "Lenders are starting to realize they have to go back to their business of making loans. They can't just be in the business of giving forbearance forever."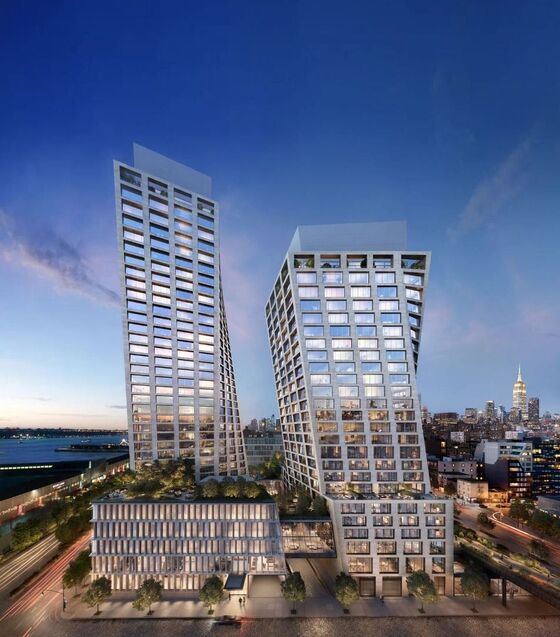 HFZ is also facing lender litigation on its signature development: The XI, rising near the High Line in Chelsea with a futuristic design by Bjarke Ingels. The two-tower project, with a pair of penthouses that each sought $70 million, is in default on $755 million in mezzanine loan agreements, according to a January lawsuit by a consortium of lenders.
HFZ has failed to make interest payments on the debt since April, is half a year past its promised deadline to complete construction, and has failed to pay contractors, resulting in at least 55 liens on the property, according to the lawsuit.
Sales have been slow. As of April 2020, two years after marketing began, just 16% of the project's 236 apartments were under contract, according to filings by HFZ with the state attorney general. Representatives for the company didn't respond to requests seeking comment.
This also could be the year that long-lingering developments find solutions in a less dramatic fashion -- through sizable price cuts.
Interest picked up at Woolworth Tower Residences after a series of reductions at the project, built inside a downtown landmark. From December through last week, seven contracts with a total listed value of $57 million were signed at the tower, where sales began in 2014, according to Donna Olshan, president of brokerage Olshan Realty Inc. An eighth deal, for a unit last listed at $6.5 million, went under contract Tuesday.
In one deal that closed in December, a three-bedroom apartment on the 35th floor was purchased for $6.5 million, down from its original listed price of $9.875 million.
Of the project's 32 units, 75% have found buyers, said Kenneth Horn, president of the developer, Alchemy Properties. That, too, is a marketing advantage as shoppers feel more secure agreeing to deals at a building that's nearly sold out -- past any risk of being taken over by lenders or turned into a rental, he said.
"We sat down, and said 'What's our strategy?'" Horn said. "We finished the building, it's done. Let's try and lower them a bit and get volume. It kind of worked."