For Japan's Bullish Chartists, Stocks Could Rally Like It's 1989
Japan's stock market could rally toward levels unseen since before the nation's economic bubble burst about three decades ago, if so-called golden cross patterns are any guide.
For that to happen, the Nikkei 225 Stock Average would have to climb enough so that its 12-month moving average goes above its 24-month average, forming a golden cross, according to Yukihiro Takahashi, a manager at Ichiyoshi Securities Co. in Tokyo.
Definitions of such technical terms differ from analyst to analyst, based on moving averages for various time periods as well as other factors. In Takahashi's analysis, golden crosses have occurred four times on the Nikkei 225 since 1980, with the most recent being in January 2013, when the gauge extended a rally that drove it higher for six of the past seven years.
"A golden cross would require the Nikkei 225 to surpass the highest price seen in October 2018," Takahashi said. "Even if it doesn't form this month, looking at the MA lines, it will most certainly form next month."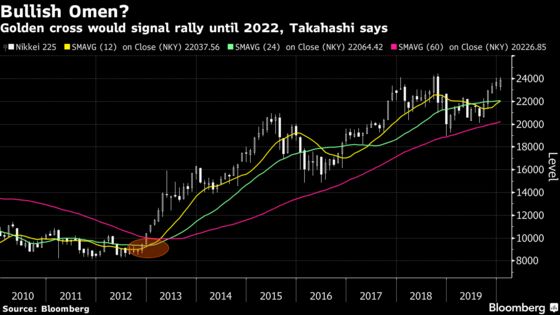 Takahashi points out that a golden cross formed in the 1980s, during which Japan's asset bubble boosted stocks to a record high in 1989. A new golden cross would signal the Nikkei 225 can keep advancing until August 2022 and possibly reach 29,000, he said. The trend will continue if the benchmark average's 60-month moving average maintains its upward slope, he added.
Naohiko Miyata, the chief technical analyst at Mitsubishi UFJ Morgan Stanley Securities Co., said the golden cross and other technical indicators suggest the market is in the midst of a strong trend. The blue-chip stock gauge has recovered about half of the drop from its 1989 peak to its 2009 low.
"At a minimum, the Nikkei 225 could climb to 28,000, and it's not a dream for the gauge to try for 30,000 next fiscal year," Miyata said.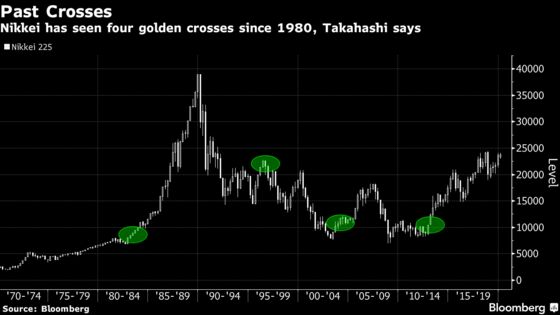 The Nikkei 225 was little changed at 23,782.67 as of 11:30 a.m. in Tokyo.
While the technical picture may look good for stocks, eventually the rosy outlook will have to be backed by fundamentals, said Takashi Nakamura, a senior strategist at Tokai Tokyo Research Institute Co. There's still a risk that the market may retreat given its rapid gains toward the end of last year, he said. The Nikkei 225 climbed 8.7% during the October-December period, its biggest quarterly advance in two years.
"Right now, long-term market views are completely split between fundamentals and technicals," Nakamura said. "Markets are carrying risk as shares are driven upward without strong fundamentals to back it up."