For Huawei Bet, ETF Traders Must Look to China Funds, Not Semis
(Bloomberg) -- Semiconductor stocks may be getting hit following the arrest of Wanzhou Meng, Huawei Technologies Co.'s chief financial officer, but exchange-traded fund investors won't have an easy time getting in on the action.
None of the U.S. chip suppliers with significant exposure to the Chinese telecom giant, such as NeoPhotonics Corp., Lumentum Holdings Inc. and InPhi Corp., are held by the largest funds tracking semiconductors -- the VanEck Vectors Semiconductor ETF, ticker SMH, and the iShares PHLX Semiconductor ETF, ticker SOXX -- both of which have roughly $1.3 billion in assets.
Those stocks plunged in early trading Thursday. NeoPhotonics, for example, which generates about 47 percent of its sales from Huawei, plunged 23 percent after B Riley FBR downgraded it to neutral from buy, citing "Huawei uncertainty."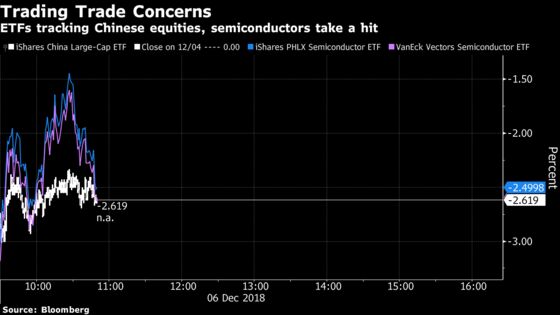 Instead, ETF investors who want to wager on the broader implications of the arrest, such as a possible widening of the ongoing trade war between the U.S. and China, may want to look for funds tracking Chinese stocks. The largest U.S.-listed China fund, BlackRock Inc.'s $6 billion iShares China Large-Cap ETF, ticker FXI, fell as much as 3.4 percent Thursday.
"Investors are reading the tea leaves that the arrest of the Huawei CFO means there will be a breakdown in relations between the U.S. and China, which will worsen the trade situation," said Kristina Hooper, chief global market strategist at Invesco Ltd. "Investors overreacted positively to news that much progress had been made on the trade front, and now are overreacting negatively to recent trade developments."