For FX Contrarians, Much of Dollar Weakness Has Been Priced In
(Bloomberg) -- The dollar's resilience after falling to a two-year low is surprising forecasters who had predicted that a breakthrough on a coronavirus vaccine and a Democratic victory in the presidential election would give renewed impetus to the currency's slide.
The Bloomberg Dollar Spot Index has recovered from its weakest levels of Monday, when it sank to the lowest since April 2018 after reports of positive vaccine developments. The view for months has been that a vaccine-fueled rebound in global growth would pave the way for investors to seek better opportunities outside the U.S., undermining the dollar. On top of that, a presidential win by Democrat Joe Biden was seen as one stepping stone toward big fiscal stimulus.
But contrarians say that much of the dollar declines that were predicted may have already occurred. The currency is down about 11% from its peak in March and has fallen in six of the past seven months. Brad Bechtel, a strategist at Jefferies, says the rebound Monday strengthens his view that the currency isn't about to enter an extended descent.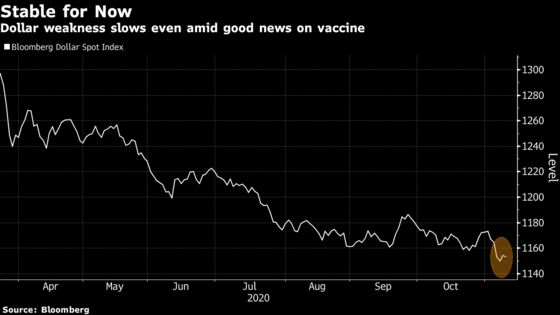 "I know that sounds crazy at these levels, but I just don't see scope for a protracted bear market in the USD," he wrote in a report Tuesday, noting that the euro could drop to $1.14, from about $1.18 now. "If things turn really good again in the economy then the USD 'smile' theory kicks in and the USD outperforms."
That theory posits that the greenback will advance as a result of either U.S. growth exceeding that of other nations, or during risk aversion. U.S. economic figures have been improving, with labor-market and manufacturing gauges beating expectations.
TD Securities expects that over the next couple of weeks, the market will be quicker to take profits on dollar shorts, rather than building new positions. That's because investors have already "priced in quite a bit of good news" from the election and the potential vaccine, said Ned Rumpeltin, a strategist.
And while the Federal Reserve's accommodation may put downward pressure on the dollar, Bechtel said major central banks and governments in Europe and Asia are also likely to add stimulus, stemming strength in their currencies.
Still, Deutsche Bank AG, which closed a bearish position on the currency last week when it looked like the U.S. election was going to be contested, reinstated its call Monday for a weaker dollar. Strategist George Saravelos said the vaccine news is "as good as it gets," and he sees "plenty of potential for the current dollar weakening trend to continue," especially against peers such as commodity-linked and emerging-market currencies.
According to Stuart Ritson, a money manager at Aviva Investors, the dollar remains expensive and "structural headwinds" including the U.S. twin deficits will fuel its continued decline. Pfizer Inc.'s vaccine news and a pick-up in global growth will also "add pressure on the dollar," the Singapore-based Ritson added.
At least for now, a rapid dollar decline seems to have been averted.
"It is time to carefully lean against some of the USD's recent weakness," said TD's Rumpeltin. His team selected a long-dollar bet versus the Norwegian krone as its trade of the week.