Floundering Australian Stocks Could Return to March Rout Levels
Australian shares may revisit the seven-year low reached last month as oil volatility and worries over the financial impact of the coronavirus dampened a recent rally.
The S&P/ASX 200 index has reclaimed about 17% from the trough on March 23, having faltered last week after entering a technical bull market earlier this month. With the Reserve Bank of Australia predicting the economy faces its biggest contraction since the 1930s, along with oil-market disorder and poor earnings growth, shares may retreat again toward their lowest close since December 2012.
"We have now entered a period which is likely to see very weak economic data and news on profits," said Shane Oliver, head of investment strategy at AMP Capital Investors Ltd. "The very short-term outlook for shares is uncertain and a re-test of the March low cannot be ruled out."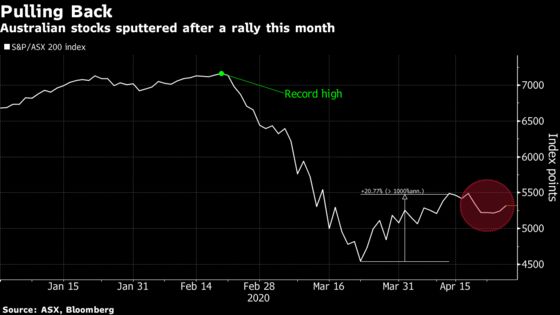 The benchmark stock gauge tumbled as much as 37% from a record high reached Feb. 20 as investors fretted over the pandemic's hit to global growth and a crude-price war. Those worries are set to linger, as oil comes off a futures contract that traded below zero amid growing concerns about a supply glut. The country's corporate bonds have also lagged a rally in credit this month.
"The shine of this recovery has come off" amid pressure in the oil market, said Jessica Amir, a market analyst at Bell Direct Ltd. "We're definitely less optimistic about where the ASX 200 will be at the end of the year."
Amir still expects the index to end 2020 higher, although the advance won't match last year's 18% gain. Valuations could see a boost once Australia starts exiting lockdown measures and activity picks up, she said. The market's trajectory is also likely to shift once more companies start maintaining guidance and affirming dividends.
But for now, sharp earnings downgrades are the biggest detractors to the outlook amid the economic impact of the government's measures to restrict the virus, including closing non-essential businesses and limiting social gatherings. Analysts have slashed profit forecasts by about 19% over the last three months, according to data compiled by Bloomberg. Earnings-per-share estimates for the next year have dwindled to levels last seen more than a decade ago.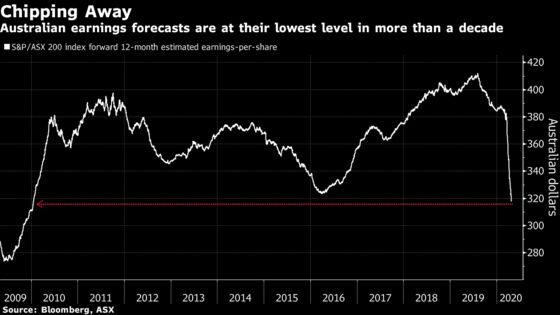 "Coronavirus has crippled EPS for the market," Amir said. "Until we see an earnings lift, there's not going to be a share-price lift."
Expect those projections to be revised even lower over the next quarter or two, said Aaron Binsted, a portfolio manager at Lazard Asset Management.
"The size of the hit to the global economy and the likely impact on company earnings is going to be very, very significant," he said. "I don't think that's been fully priced yet."
Stocks will also face pressure as the nation's pension funds, which traditionally buy assets in market routs, instead pay money to members to cushion financial hardship caused by the shutdown, after a change in government rules allowed people to access retirement savings early and without penalty.
Australia has approved A$3.8 billion ($2.4 billion) of pension-fund claims since applications opened on April 20, Treasurer Josh Frydenberg said Thursday. First State Super Chief Executive Officer Deanne Stewart said as much as A$60 billion might be withdrawn over the next five months.
There has been thin liquidity and high volatility in the Australian market recently, and some of the price action may be tied to pension funds preparing for withdrawals, according to Tribeca Investment Partners portfolio manager Jun Bei Liu.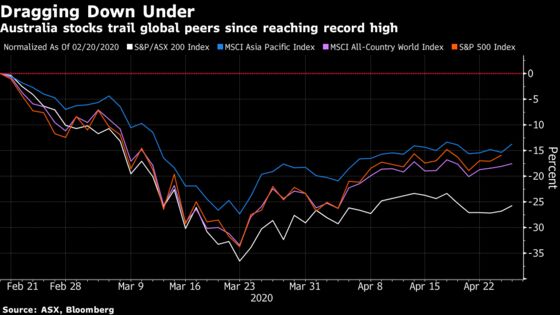 The funds have "probably been using every market rally as a selling opportunity," she said. "Maybe that's part of the reason we lagged the performance of other markets."