More Sellers Than Buyers Sparks Trading Halt at S&P Futures Open
(Bloomberg) -- Sellers showed up. Buyers didn't. The resulting chaos pushed U.S. equity futures down 1.9 percent at Wednesday evening's open, triggering trading halts by the CME Group Inc. to prevent further carnage.
S&P 500 futures, known as e-minis, tumbled out of the gate on Wednesday evening. Heading into the first full trading day following a 3.2-percent drubbing, there was no appetite to buy the dip. Far from it -- the modest recovery in futures during the abbreviated session earlier was aggressively sold.
Roughly 30 seconds into the session, a cascade of orders offering to sell in size near the current price hit the market, overwhelming the appetite of buyers to transact at that level. Volumes traded in the first 10 minutes totaled a whopping 36,700, relative to a one-month average of 5,200.
The motivated selling was so intense that the CME Group was forced to pause markets "intermittently" to keep them from moving too far, too fast. By the time desire to dump futures matched the willingness to buy, e-minis were down nearly 2 percent within the first 120 seconds of trading.
"The market was trying to find a clearing price in low liquidity conditions," said Pravit Chintawongvanich, an equity derivatives strategist at Wells Fargo Securities. "The unusual mid-week closure after a high volatility day led to lower liquidity in the futures open than usual."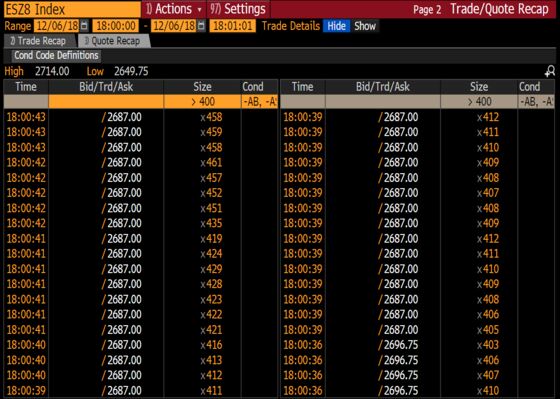 A CME spokesperson said 40 velocity logic events -- brief breaks in trading introduced when the potential for price movement is deemed to be too big and swift -- occurred in the first six minutes of trading. Velocity logic events are intended to help mute any significant swings by giving participants an opportunity to cancel, modify, or enter orders.
"All markets operated as designed throughout," the CME said.
That'll come as little relief to equity bulls befuddled by yet another round of selling.
Many have pointed to the arrest of Huawei Technologies Co. Chief Financial Officer Wanzhou Meng as a cause for the renewed risk-off mood. But that news came roughly one hour before futures re-opened. The Chinese offshore yuan -- which often weakens relative to the U.S. dollar as fears related to trade tensions swell -- didn't have much of a reaction when those headlines hit. However, the Chinese currency later weakened with U.S. equity futures.
"It shows you how shaky the market's foundation is for that to trigger a 50-point S&P sell-off," said John Jansen, a retired trader who runs the Across the Curve finance blog.
If there's a silver lining for battered U.S. stock optimists, it's that appetite to buy was elevated once futures breached 2,650, and sellers disappeared. This may prove to be the next key level for a market that continues to blow through them at a discomforting pace.