Stock Pops Like Monday's 5% See Mixed Record of Going Places
(Bloomberg) -- The last time stocks did this, two Christmases ago, nobody thought it would last.
It was Dec. 26, 2018, when the Dow Jones Industrial Average surged 5% from the bottom of the bull market's worst sell-off. Wall Street veterans were nearly unanimous in their skepticism. Also: they were wrong. The bounce was the first step of a rally that would lift the gauge 35% in a little over a year.
Still, their reaction wasn't baseless. In the last three months of 2008, the Dow staged rallies that dwarfed even today's four separate times, including two that topped 10%. Those did nothing to stem the worst bear market since the Depression.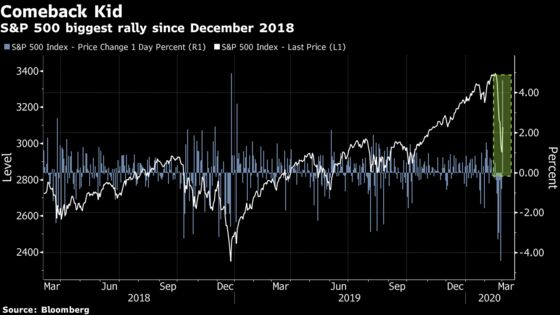 It's a fact of life. Unhinged markets regularly generate head-fakes, while most lasting rallies have powerful starts. Bottoms are only visible in retrospect. Monday's 5% surge in stocks, fueled by optimism over central bank stimulus, followed the worst week in 12 years -- something was due. Whether it can stand up to weeks or months more of coronavirus headlines is the question investors must ask.
The move higher continued into Tuesday morning Asia time, with S&P futures rising 0.5% as of 10:07 a.m. in Hong Kong.
"Today was nice to see," said John Carey, portfolio manager at Pioneer Investment Management, speaking on Monday. "I would not be surprised now to see some further weakness in the market as the reality of the spreading coronavirus continues to settle in."
Five-percent jumps are rare, but so are weeks like the last one. The majority of one-week drops of 10% or more occurred during the Great Depression, according to Evercore ISI. Usually, declines that big are followed by positive one-week forward returns, a trend that can continue for three months. But even when forward returns have been positive, the market rarely recovers all of its losses over the next quarter.
So while expressing relief over the prospect of a coordinated response by central bankers, investors were also realistic about the outbreak's lingering threat.
"After a 5% rebound, it's now up to central bankers to deliver on this expectations," said Adam Phillips, director of portfolio strategy for EP Wealth Advisors, speaking Monday. "As strong as today's rebound was, it is hard to ignore the fact that long bond yields hardly budged."
Traders, while excited to see the market can still rise, expressed concern about the contour of the move. Utility stocks led the market higher, a fact that doesn't usually inspire confidence. Gold gained, and defensive consumer staples and retail firms outperformed their cyclical peers. Bleach-maker Clorox Co. jumped 7.9% to an all-time high.
"A lot of people will walk away and say, 'Oh no, I missed the bottom.' I don't think that's probably true yet," said Jennifer Ellison, principal at San Francisco-based BOS, a wealth-advisory firm. "The economic data is lagging so we haven't begun to see really what the impact on the economic data is. We're still just at the beginning."
The data wasn't great on Monday. The JPMorgan Global Manufacturing PMI fell 3.2 points to 47.2, snapping a three-month streak of expansionary readings. Production plunged the most in almost two decades while the measure of new export orders also fell to the lowest since 2009.
"It's still pretty tough. I'm not saying this is the bounce that ends it all. I'm concerned how the market reacts" to future headlines, said Yousef Abbasi, global market strategist at INTL FCStone. "Someone asked me, was there a massive Fed injection around 2 p.m.?" he said. "Everyone does look for, did I miss a headline, did I miss something? Frankly it does feel like we continue to get whipped around. This is a difficult situation to think about."