Five Charts That Suggest Brexit Won't Go Boris Johnson's Way
With three weeks and one day before the U.K. is scheduled to quit the European Union, the sense in markets is that it's not going to happen. At least not yet.
Across a range of assets, key indicators show investors are positioned for relative calm around the end of month, with bets on fireworks pushed back as the Brexit standoff endures.
The sanguine verdict comes even as negotiations between Britain and the EU falter, and rumors swirl that Prime Minister Boris Johnson could break the law by refusing to seek an extension. Last month he infamously vowed he'd rather be "dead in a ditch" than ask Brussels for another delay.
Here's a look at key market metrics: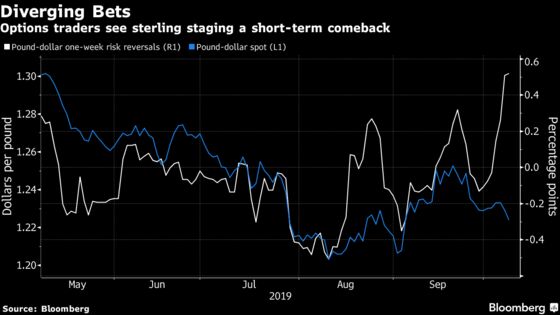 A gauge of sentiment in U.K. currency markets for the next week is at the highest in four months, potentially because traders expect Johnson to be forced to seek an extension to the deadline, thereby averting the cliff edge. A similar divergence between the spot and options markets was seen in August, and pound subsequently rebounded by about 2%.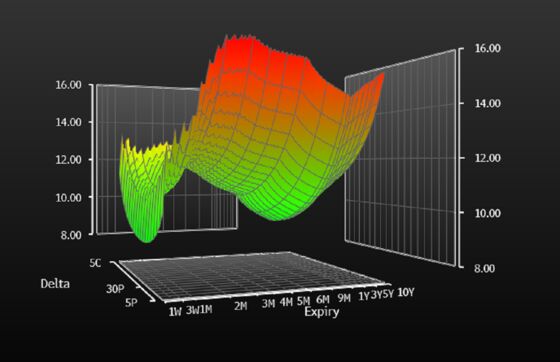 It's not a case of complacency, however. Traders are getting ahead of the game, and looking beyond the Oct. 31 departure date to what may come next. The pound's term structure and volatility surface, which show the cost of insuring against undue swings in the currency, is the highest over a two-month horizon.
There are no obvious deadlines in that period, which suggests the market may be bracing for an election if Johnson does seek an extension.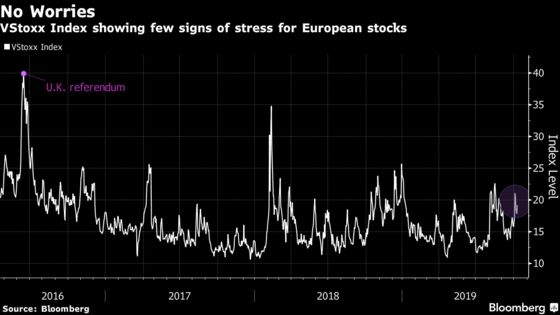 European equity investors have been grappling with trade war-induced turmoil as well as gyrations on Wall Street thanks to political drama in Washington. Throw Brexit into the mix, and you would expect a perfect cocktail for volatility. Yet the VStoxx Index, which measures expected price swings for the euro area's biggest companies, sits near its five-year average -- well below the 2019 highs. A similar gauge for U.K. large caps is not far from the lowest in a year.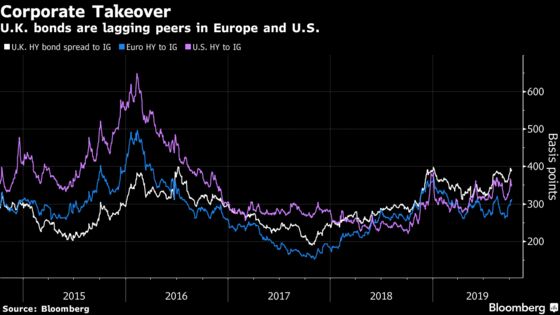 Fear of the cliff edge may be conspicuous by its absence, but that doesn't mean traders are upbeat. Premiums for sterling bonds show that riskier British companies are underperforming American and euro-area counterparts.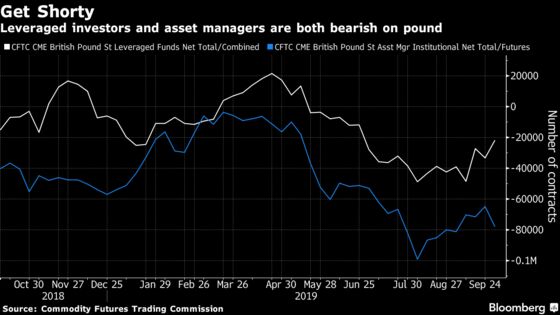 There are other signs of worry. The put-to-call ratio for the FTSE 100 Index -- the volume of outstanding bearish contracts versus bullish -- has been elevated for months.
Meanwhile, leveraged traders and asset managers are both holding short sterling positions, according to CFTC data.