Fink's Climate Pledge Pays Off With BlackRock's Green ETF Adding Record Cash
(Bloomberg) -- Larry Fink's commitment to tackling the climate crisis already seems to be a boon for his firm's environmentally-friendly funds.
BlackRock Inc.'s iShares ESG MSCI USA ETF, ticker ESGU, had its biggest-ever inflow on Wednesday, totaling $1.15 billion, according to data compiled by Bloomberg. Meanwhile, a sibling fund -- the $964 million iShares ESG MSCI EM ETF -- had a record day of trading, with more than $785 million shares changing hands. This could translate to further flows in due course.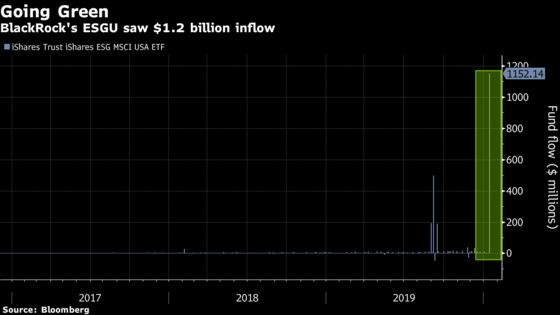 Increased attention to the ESG sector comes after Fink warned that climate change could upend global finance in his annual letter to corporate executives. As a result, BlackRock plans to integrate sustainability criteria into portfolio construction and risk management, exit investments with high risks from ESG-related issues, and launch new products that screen out fossil fuels.
"Obviously a lot of people are concerned over climate change and how companies do what they do, and BlackRock is starting to lead forward what the consumer wants," said Ryan Detrick, senior market strategist at LPL Financial. "It's still a very untapped market, and it's one of those trends that doesn't seem like it's going to fade out anytime soon."
ESGU's cash injection prompted a massive spike in the fund's assets. After taking in $1.18 billion over the course of 2019, the fund grew 77% overnight and now oversees $2.7 billion.
But the fund may soon have increased competition. BlackRock plans to double its lineup of sustainable ETFs to about 150 to help meet its new climate commitments, and will lobby benchmark providers to create sustainable versions of their flagship gauges for these funds to track.
That's because indexers, like MSCI Inc., ultimately determine which companies are included in passive funds, and BlackRock holds more than two-thirds of its $7.4 trillion of assets in products linked to indexes.
Investments in ESG and value-based ETFs surged in 2019, reaching $94 billion of assets globally, double 2018's level. Cost seemed to be a key determinant for these investors, with almost 70% of flows going to products charging $2 or less for every $1,000 invested.
"It's here to stay, it's not a passing fancy," Chris Gaffney, president of world markets at TIAA, said of ESG investing. "It's increasing in popularity right now with both consumers and institutions."