Financials ETF Bleeds Cash as Yield Curve Goes Flat: ETF Watch
The Vanguard Financials ETF, known by its ticker VFH, had almost $160 million of outflows on Tuesday, the most since September 2016. It also saw a spike in activity Wednesday, as investors traded $156 million, or more than triple the average daily volume for the past year. A $48 million trade was the day's largest and appeared to be a block sale.
"Banks generally borrow short and they lend long," said Mark Hackett, chief of investment research at Nationwide Funds Group. "So the fact that the 10-year is really not moving while the short end is moving higher will actually temporarily choke off some of the net interest margin."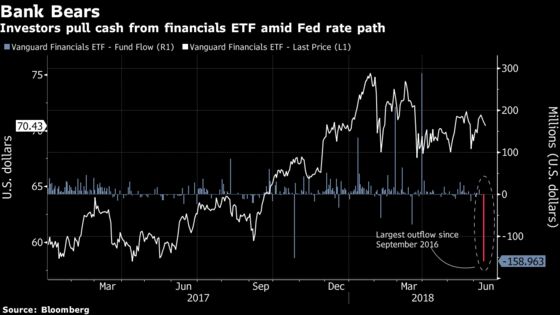 In addition, the two interest rate hikes from the Federal Reserve anticipated in the next six months "is not a good scenario for financials," Mike O'Rourke, JonesTrading's chief market strategist, wrote in a research note.
"Although the algorithms have been trained over the past three years to buy financials on the hopes of higher rates and a steeper curve, that opportunity has largely been missed," he wrote.
VFH has over $8.3 billion in assets and is the second-largest ETF tracking financials. About 53 percent of the fund's holdings are banks, with insurance companies making up 25.6 percent of the exposure. JPMorgan Chase & Co., Bank of America Corp. and Berkshire Hathaway Inc. are the three largest holdings.