Erupting Philippine Volcano Forces Thousands More to Flee
(Bloomberg) -- A lock-down is being implemented by police in three towns in the Philippines near an erupting volcano, 40 miles (65 kilometers) south of capital Manila, to prevent residents from returning home as heavy ash fall and tremors continue in the area.
More than 38,000 persons are currently staying in evacuation centers due to the Taal volcano's eruption, the disaster management agency said in a report Tuesday.
Farm damage from the eruption, including rice, corn, coffee, cacao and bananas, has reached 577.59 million pesos ($11.4 million), the Agriculture Department said. Mass fish deaths are expected in the lake surrounding the volcano because of toxic sulfur levels.
A hazardous explosive eruption remains possible within hours or days, the Philippine Institute of Volcanology and Seismology said in its latest report Tuesday. New cracks were observed in nearby towns -- a sign that magma could be rising from underground, the agency's chief Renato Solidum said.
Lava fountains generated 800-meter dark gray, steam-laden plumes and 49 volcanic earthquakes were recorded early Tuesday, according to the agency. Taal Volcano is a tourist attraction and is among the nation's most active volcanoes.
It's difficult to predict how long the volcano could remain at the current heightened level of activity, said Mario Aurelio, director of the National Institute of Geological Sciences at the University of the Philippines. Previous eruptions suggest intense activity could persist for weeks to months, he said.
"Its effect on the economy won't be that big and there can be a fairly fast catch up when the people displaced go back and start reconstruction - that could be a catalyst. The affected area is very localized," said Victor Abola, an economist at the University of Asia and the Pacific in Manila.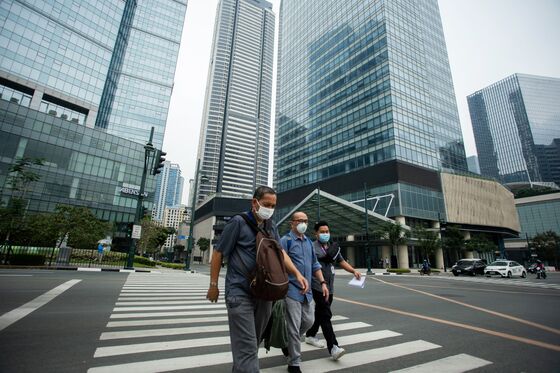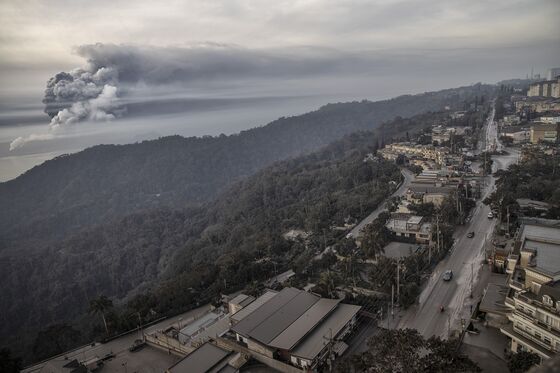 Financial markets and government offices reopened in Manila on Tuesday, signaling a reprieve from ash spewed by the volcano that reached the capital. The Philippine stock exchange rose 0.2% at the close. The peso was little changed at 50.58 to the dollar.
President Rodrigo Duterte said he's scheduled to conduct an inspection of the areas surrounding Taal on Tuesday, pledging to ensure that prices of essential commodities including face masks aren't rising unreasonably. Vice President Leni Robredo visited the evacuation centers to provide food packets and dust masks, according to her official Twitter account.
The government has sufficient supplies for evacuees, and helicopters are on standby in case more people need to be evacuated, Defense Secretary Delfin Lorenzana said.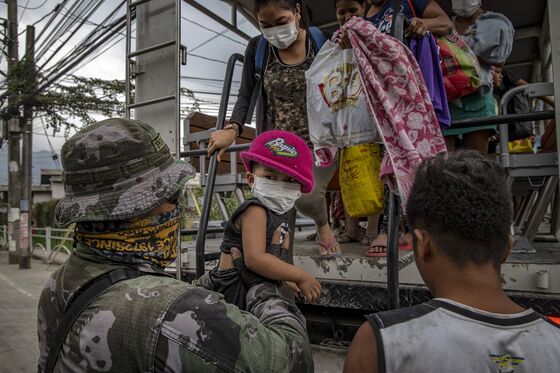 Globe Telecom Inc.'s services will be interrupted in parts of Batangas, Cavite and Laguna provinces as it cannot refuel generators in these areas because of heavy ash fall, the company said in a statement.
The Philippines -- among the most disaster-prone countries in the world -- is "well prepared financially to handle any fallout and damage from this eruption," Finance Secretary Carlos Dominguez told Bloomberg Television Monday.
Between 2000 and 2016, natural disasters in the Philippines caused more than 23,000 deaths and affected 125 million people, according to the Asian Development Bank. The socioeconomic damage was about $20 billion with average annual damage estimated at $1.2 billion, it said.