Fidelity, T. Rowe See Quick Recovery for Fallen Japan Stocks
The spread of the deadly coronavirus has caused near-term caution over share prices and corporate profits but has done little to shake money managers' bullish views on Japan.
Fidelity maintains its expectations for Japanese share price gains, with a short-term impact from the virus to be followed by a recovery. T. Rowe Price sees some of the negatives priced in already and advises selective dip buying.
The Topix index is down about 2.5% this year as the illness which originated in China casts a cloud over the global economy and Japan Inc.'s export-driven earnings. That's trimmed last year's 15% rally, which was fueled by global trade hopes and a growing perception of Japan's undervaluation. Foreign investors sold a net 936 billion yen ($8.6 billion) of Japanese stocks and futures this year through Jan. 24 after buying 5.6 trillion during September-December.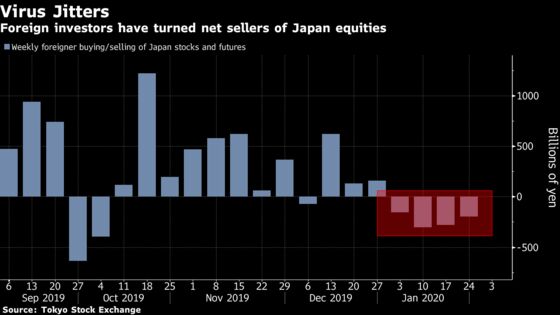 The virus has killed 425 people in China, with confirmed cases in the country at 20,438. Japan has confirmed 20 cases, the highest total outside the mainland. The Japanese government has urged its citizens not to travel to China and barred entry to people with symptoms.
Concerns over the impact of the outbreak have begun to creep into earnings reports, with cosmetics maker Kose Corp. citing it as a reason for cutting its annual forecast. CLSA Ltd. estimates Japanese companies may see net income for the fiscal year ending March fall 3% on the virus hit, compared with current analyst consensus for a 0.7% dip.
Here's what fund managers we spoke with had to say:
UBS Wealth Management (Toru Ibayashi)
There's no reason to believe the outbreak of this new virus is going to be a catastrophic issue.
"Investors should stay calm and we are confident to recommend to stay invested."
Foreign investors, who tend to account for one-third of Japanese equity trading, will refrain from any aggressive selling. Foreigners overreacted to U.S.-China tensions when they dumped Japanese equities early last year and ended up buying huge amounts later in the year.
UBS raised its view on Japanese equities to overweight from neutral in April last year and maintains that position.
Fidelity International (Masahiro Fukuda)
Chinese economic data will likely see a negative impact for two to three months.
"Stock prices will then regain their original upward trend on the view that the bad news has been all exhausted."
View for stronger Japanese equities "hasn't changed at all."
T. Rowe Price Japan (Archibald Ciganer)
Any impact on Japanese equities from the virus will be "very short-lived."
A negative impact on the tourism sector is inevitable, "but when it comes to stock prices, I think this has all been reflected already."
Over the past week, "there were moments when China-related names were weak. If there's a stock among those names that you think is worth investing over the long term, there's an opportunity there to increase exposure."
Sumitomo Mitsui Asset Management (Hitoshi Ishiyama)
The virus isn't something that will thwart the current global economic recovery, but "it will take time for the market to regain calm."
"We'll have to see if the current earnings outlook is

okay

as is, or if we have to re-evaluate."
Japanese equities may stay under pressure until March, followed by a recovery.
Nikko Asset Management (John Vail)
Expect a mild downgrade to global economic growth and corporate profits.
While Nikko Asset may consider changing its overweight view on global equities depending on how the situation develops, there are no immediate plans to make any changes to their positive view on Japan.
"We remain in the early stages of this issue, and we need to be mindful of surprising developments," Vail said. "But as it stands, it's not as bad as some people say it is to the global economy."