Fed's Kaplan, Rosengren to Sell All Stocks Amid Ethics Concerns
(Bloomberg) -- The presidents of the Federal Reserve banks of Boston and Dallas said they are selling their individual stock holdings by Sept. 30, in moves aimed at quenching ethical concerns over their trading activity last year.
Boston Fed chief Eric Rosengren and Dallas Fed's Robert Kaplan released near-identical statements Thursday after their most recent financial disclosure documents showed active trading in a range of investments during a year in which the central bank took sweeping policy actions to protect the U.S. economy from Covid-19.
They both said they'd invest the proceeds of their sales in diversified index funds or hold them in cash.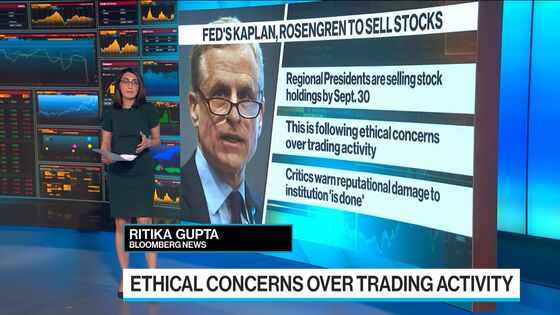 "While my personal saving and investment transactions have complied with the Federal Reserve's ethics rules, I have decided to address even the appearance of any conflict of interest by taking the following steps," Rosengren said in a statement. 
Kaplan echoed Rosengren's comments. Both pledged to not trade stocks for the duration of their tenures as reserve bank presidents.
Rosengren and Kaplan's trading activities -- revealed among the annual disclosures filed by all 12 regional Fed presidents last month -- drew sharp criticism at a time the Fed is already under fire from some quarters for monetary policies that have elevated asset prices, which disproportionately benefit wealthier Americans.
"At a time when they are being roundly criticized and to the extent to which the policies have made the rich richer, you need to question the optics of what these guys were doing," said Mark Spindel, chief investment officer of Potomac River Capital in Washington. "It doesn't shed positive light on them."
The U.S. central bank slashed interest rates to zero in March 2020 as the pandemic spread and began buying hundreds of billions of dollars of Treasuries and mortgage-backed securities to calm financial markets. It is still buying $80 billion in Treasuries and $40 billion in MBS every month, though officials say they expect to start scaling those purchases back later this year.
Rosengren's disclosure listed stakes in four separate real estate investment trusts and disclosed multiple purchases and sales in those and other securities. Those investments raised eyebrows because he has publicly warned about the risks in commerical real estate. He has also advocated for the Fed to consider scaling back its MBS purchases faster than Treasuries to avoid overheating the housing market.
Kaplan, a former senior Goldman Sachs Group Inc. executive, showed multiple $1 million-plus transactions last year as the U.S. economy was convulsed by Covid-19.
As part of its crisis-fighting measures, the Fed also launched a slew of emergency facilities, including one where it bought corporate bonds for the first time. Corporate exchange-traded funds, as well as the stock market more broadly, surged in 2020.
Kaplan's disclosure shows that he bought and sold iShares Floating Rate Bond ETF, which tracks the level of bonds under five years of maturity. The Fed, through its adjustments to the fed funds rate, directly influences the price of short-term notes.
"Doing things like this, although not prohibited by the rules, shows poor judgment and really hurts the reputation of the Fed," said Roberto Perli, a partner at Cornerstone Macro LLC and a former Fed economist. "Good that he and Rosengren said that they won't trade again as long as they are presidents. But the damage to the institution is done."