Fed 'Has the Market's Back,' Says Tom Lee Who Urges Buy the Dip
(Bloomberg) -- Investors should take advantage of the worst monthly equity selloff in this bull market to position for a year-end rally as fears over Federal Reserve hawkishness are likely overdone, says Tom Lee, head of research at Fundstrat Global Advisors.
While catalysts cited behind the rout ranged from peak earnings growth to trade tensions with China and midterm elections, a key trigger came from the bond market. Bond yields spiked and stocks fell as recent comments from Fed officials suggested they're willing to raise interest rates above neutral, or to levels that neither hold back nor spur economic growth.
Worries that the central bank would dismiss the market's impact on the economy are misplaced, according to Fundstrat's Lee, who cited a Goldman Sachs study showing the latest equity decline has contributed to a tightening in financial conditions that's equivalent to a rate hike of 25 basis points.
"The biggest risk is a loss of confidence across other asset classes - this has not happened," Lee wrote in a note to clients. "And if it did, we expect the Fed and the Treasury department to begin intervening," he said. "Fed ultimately has the market's back."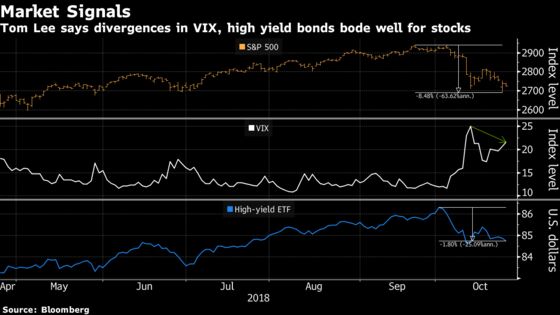 The S&P 500 has fallen in all but four sessions this month as more than $2 trillion has been erased from equity values since its all-time high reached in September. Down almost 9 percent in October, the index is poised for the worst month since the month before the bull market started in March 2009.
While the equity index kept falling, other assets such as high-yield bonds are showing little signs of stress, a divergence that Lee found has historically resolved in the favor of the latter.
In another sign that the equity carnage may be over, the Cboe Volatility Index, a gauge of costs of S&P 500 options, has made lower highs in stark contrast with fresh lows in stocks. The index, also known as VIX, usually moves in the opposite direction of the S&P 500, and its ability to stay below its Oct. 11 peak suggested to Lee that sentiment is improving.
"Over the past few weeks, it seems the overall narrative around equity markets has incrementally turned half-empty," Lee wrote. "Yet, curious divergences are developing, which put us in the camp that we will see a reversal of sentiment and a subsequent rally into year-end."
The S&P 500 fell 3.1 percent to 2,656.10 at 4 p.m. in New York, erasing its year-to-date gains. Lee expects the S&P 500 to end the year at 3,025. To achieve that target, the index would have to rise roughly 14 percent by the end of December.