Natural Gas ETN Volume Tops S&P 500, Nasdaq ETFs on Blowup Fears
(Bloomberg) -- Cold weather in the U.S. is sending an extra shiver down the spines of investors who hold an exchange-traded note that bets against natural gas and just had its worst-ever day.
Trading in the VelocityShares Daily 3x Inverse Natural Gas ETN, ticker DGAZ, had a record 169 million shares trade Wednesday, exceeding the volume in SPY -- the world's biggest exchange-traded fund, which tracks the S&P 500 Index -- and the Nasdaq-tracking QQQ, as speculation mounted around the note's future.
DGAZ aims to deliver three times the opposite daily move of a benchmark for natural gas prices, which have spiked amid forecasts for a frigid winter in the U.S. The note tumbled around 56 percent to $2.86, its biggest loss ever, and is down almost 70 percent this week, as the underlying soared nearly 20 percent on Wednesday afternoon. Volume in the ETN was more than 10 times the daily average over the last 30 days, data compiled by Bloomberg show.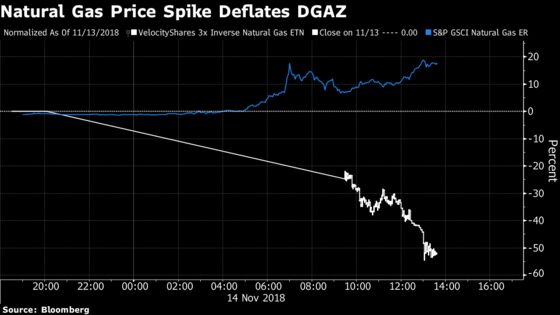 DGAZ's prospectus notes that one potential "acceleration event" that could elicit the liquidation of the note includes if "the Intraday Indicative Value for any series of ETNs is equal to or less than fifteen percent (15 percent) of the prior day's Closing Indicative Value."
The closing indicative value for this note was $6.2538 on Tuesday, implying that a drop to below 94 cents would have been needed to breach this threshold. However, the prospectus also affords the issuer fairly wide latitude to determine whether to close the ETN ahead of its scheduled maturity date.
A representative for VelocityShares did not immediately respond to request for comment.
The sudden slump hearkens back to the closure of another VelocityShares ETN -- XIV. The short-volatility note was shuttered in February after the biggest one-day spike in the Cboe Volatility Index on record.
"If the futures are up more than 33 percent in a single day, DGAZ could potentially blow up like XIV did earlier this year," said Pravit Chintawongvanich, equity derivatives strategist at Wells Fargo.
In contrast to the short-vol note, however, the daily rebalancing of this ETN takes place during normal U.S. trading hours. DGAZ's need for natural gas contracts to rebalance its portfolio may not be enough to push the underlying assets higher, which is fortunate since a further rise in natural gas could precipitate the note's demise. That's what happened to XIV, where investors' knowledge of its need to rebalance was significant enough to move the market and prompt the ETN's failure.
It's not all bad news for VelocityShares's natural gas products, however. The firm's $793 million triple-leveraged long note, ticker UGAZ, is on a tear this week, up as much as 64 percent as of Wednesday.