Fear Gauge Climbs Past Levels Last Seen When Bear Market Loomed
(Bloomberg) -- Wall Street's "fear gauge" for the equities is surging past levels seen during the rout in late 2018 that almost sent U.S. stocks into a bear market.
The Cboe Volatility Index hit a high of 36.36 on Thursday as the S&P 500 Index dropped as much as 3.5%, taking out the Dec. 26, 2018, high of 36.2. The benchmark U.S. equity gauge has tumbled about 10% from a record high on Feb. 19 amid growing concern the coronavirus will wreak economic havoc.
One notable aspect of the recent spike in implied volatility is that it has topped the 2018 increase even though the drawdown in equities was nearly twice as severe then. The S&P 500 was on the cusp of a bear market at that time.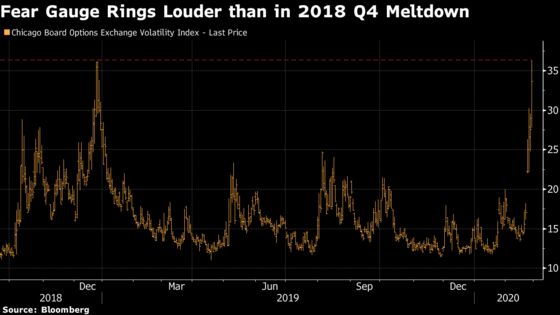 "The VIX has been much more reactive compared to Q4 2018," said Pravit Chintawongvanich, an equity derivatives strategist at Wells Fargo. "That's primarily a function of how rapidly markets have sold off. In the span of six days, the S&P 500 has sold off over 10% in pretty much a straight line."
For investors to break even on a so-called long straddle position covering Friday's session -- an options strategy that bets on market volatility in either direction -- the S&P 500 Index would have to move 75 points tomorrow, or about 2.5% from current levels, he added. The S&P 500 has only gained or lost 75 points in a session five times over the past year -- and two of those instances occurred this week.