Fast-Money Quants Are Feasting on the Crude-Market Carnage
(Bloomberg) -- Quants have morphed from unsuspecting victims to willing enablers of the oil-price collapse -- and they have plenty of ammo to add fuel to the commodity sell-off.
After nursing losses on bullish positions earlier this month, a significant number of automated trend-following funds, or commodity trading advisers, have now moved to a short position -- with aggregate bearish bets at still-modest levels, according to analysts.
"We do not think all CTAs have flipped short. Positioning could become more extreme," said Hallie Martin, a strategist at Deutsche Bank AG.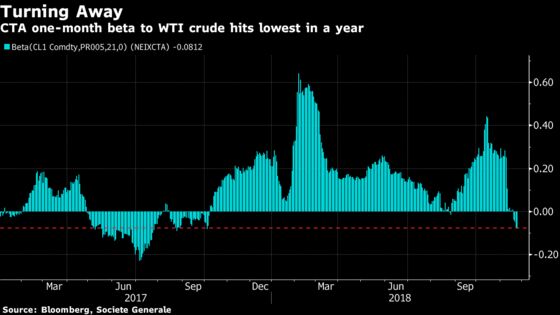 Oil slipped into a bear market this month amid shifts in U.S. sanctions, trade tensions and worries about easing global growth. WTI crude has fallen 23 percent to trade around $50 a barrel in November, on track for the biggest monthly decline since 2008.
Crude exposure in twenty of the largest funds tracked by Societe Generale SA has dropped to the lowest since last October, judging by the portion of their returns attributable to WTI futures, a measure known as beta.
Still, exposures remain firmly above the 2017 summer trough, when the funds were at their most bearish in the past two years. That suggests the quant-capitulation trade could gather more pace if oil remains hostage to negative news on the supply-demand outlook, according to strategists.
Quant-selling pressures are typically a headwind for fast-moving traders looking to buy the dip.
As the oil-price narrative shifted from $100 a barrel to $50 in the space of two months, this breed of quant investor likely intensified the crude rout in recent weeks, according to Nomura Holdings Inc.
"CTAs were selling WTI crude oil futures as well as ICE Brent crude oil futures," Masanari Takada, a strategist at the bank wrote in a note this week.
All told, the commodity portion of a trend-follower's portfolio has gained 3.5 percent in November according to SocGen estimates -- not enough to offset broader losses as bearish momentum takes hold of risk assets from stocks to credit. The French bank's basket of 20 CTAs has declined 1.1 percent this month.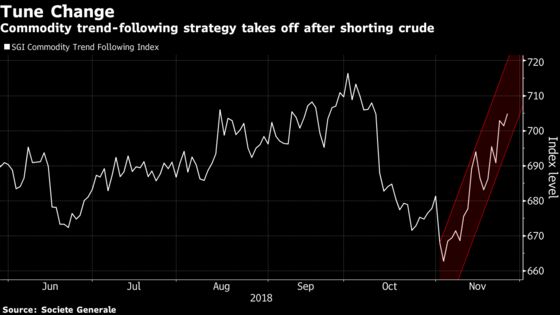 Discretionary traders with freedom to go against the trend aren't buying the dip, according to Nomura, citing the overall positioning of global macro hedge funds.