This Season's FANG Earnings: United They Rise, Divided They Fall
(Bloomberg) -- Good news for one FANG is good news for all. Bad news is just noise.
This earnings season there's a trend in tech heavyweights: losses are staying local while gains are spreading. It started with Netflix and is being reaffirmed by Facebook.
Shares of Facebook are off more than 18 percent, which could end up the biggest one-day loss of market value on record, after disappointing revenue and user growth. But Google, Amazon and Netflix are off by less than 2 percent.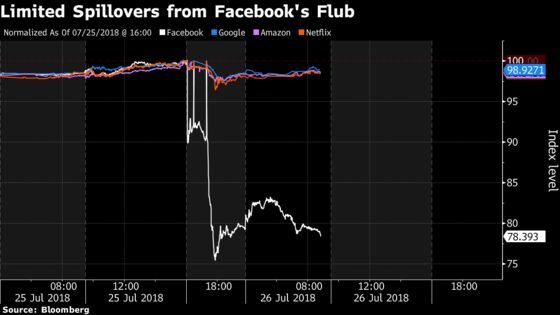 Netflix's stock fell more than 5 percent on July 17 after its underwhelming results; Facebook, Amazon and Google all gained more than 1 percent.
Meanwhile, Amazon and Facebook shared in roughly 40 percent of Alphabet Inc.'s post-earnings move following its impressive quarter. The video streaming company's post-earnings trading malaise continued.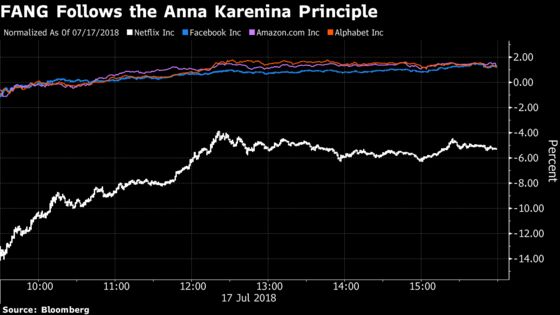 This treatment of the "relentlessly bought" quartet is somewhat justified in light of the group's relative lack of economic sensitivity and differences in their growth narratives, according to Michael Purves, chief global strategist at Weeden & Co., who recommended tactically bearish positions in tech via options ahead of earnings this week.
"The FANG group has similar characteristics -- quasi-monopolistic, high growth and cash flows -- but very discrete stories, which is part of their attractiveness," he said. "Growth stories don't stand for infinity, but they're not very economically sensitive and there are very few places in the world where you can get that."