S&P 500 Ekes Out a Gain Amid Tech Stock Rout
(Bloomberg) -- Convinced the American stock market is still chained to the FANG bloc? Tuesday was evidence the link is weakening.
While the quartet -- Facebook Inc., Amazon.com Inc., Netflix Inc. and Google's parent company Alphabet Inc. -- sank 2.3 percent in regular trading for one of the biggest declines this year, the S&P 500 slowly recovered as the day wore on. At the end of the session, the benchmark had eked out a 0.1 percent gain. It was the first time since November 2016 that the index rose while the FANGs posted a loss this big.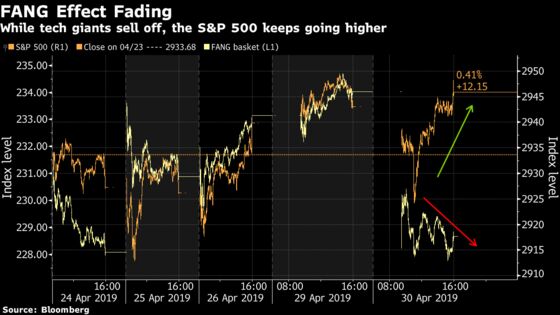 Resilience in the face of FANG woes has been rare. In data going back to 2012, the cohort of tech giants has posted declines of at least 2 percent on 117 days. Ninety percent of those were accompanied by losses in the S&P 500.
While strategists such as Robert Baird & Co.'s Michael Antonelli see the divergence as a sign of the FANGs' fading influence on the market, it fits into a growing trend where stocks have been falling out of step with each other. In other words, when one company blows up, another surges, and the market ends up just fine.
"It certainly looks like the broader market is able to shrug off a hit to the FAANG names," said Larry Weiss, managing director of equity trading at Instinet LLC in New York. "It's such a crowded long that money flowing out of these names generally goes to other equity asset classes."
FANG stocks sold off Tuesday after Alphabet reported sales that missed analysts' estimates. Communications and consumer discretionary, industries that host the four companies, suffered the only drawbacks among major groups in the S&P 500. Offsetting the losses were gains ranging from utilities to real estate.