Fall in VIX's Relationship With S&P 500 Leaves Vega Underperforming
(Bloomberg) -- An aggressive implied volatility storm has not developed amid the recent declines in global stock market indexes.
The relationship between S&P 500 and VIX has flattened, leaving put spreads on the index outperforming volatility call options. SPX realized volatility remains historically elevated (10-day at the 80th-percentile of the 5-year range) but there's no sign of extreme downside hedging panic on short-dated skews.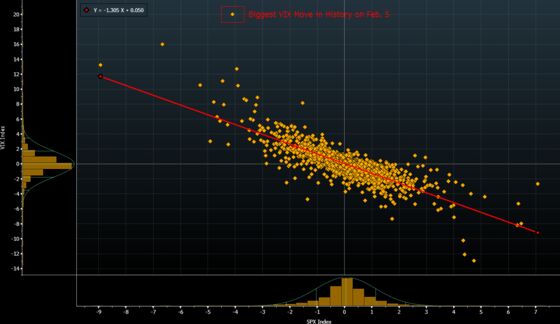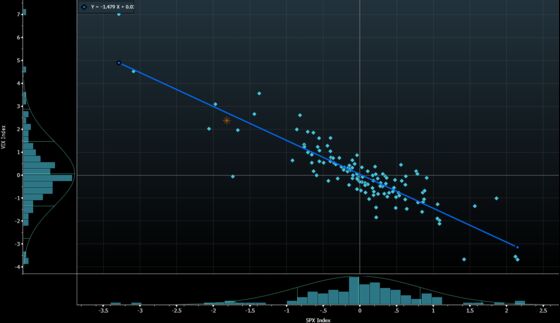 The blow-up in short-VIX exchange-traded products (ETP) in February was a unique liquidity event that saw the beta historically high to SPX and convexity options outperform given the acceleration in volatility gains as tail risk repriced
VIX calls funded by SPX puts create cost-efficient long convexity exposure, given VIX call options tend to outperform SPX puts during sharp sell-offs; however, basis risk needs to be managed where, for example, the market exhibits a slow decline with limited volatility or the beta of SPX and VIX diminishes
Hedging via rolling SPX put spreads may continue to outperform, with inverse VIX ETP rebalancing on vol spikes needing only a fraction of the vega buying seen in February
Still, liquidity holes and brutal deleveraging pose a threat and may be the story of 2019 as a defensive stance grows amid quantitative tightening and growth concerns, with volatility a function of the business cycle
NOTE: Tanvir Sandhu is a global interest-rate and derivatives strategist who writes for Bloomberg. The observations he makes are his own and are not intended as investment advice