Failing Water Supply Adds to Woes for PDVSA's Biggest Refineries
(Bloomberg) -- Lack of water is the latest challenge facing Venezuela's biggest oil refineries.
Petroleos de Venezuela SA's massive Paraguana refining complex, among the largest in the world, can barely operate because key filters at a $250 million plant installed in 2015 to remove salt from its water supply isn't working. Without adequate water supply to generate power and the steam used to heat crude oil, the facility can't produce gasoline and diesel.
The refining complex's desalination plant is working about one-third of capacity, with only 3 of its 8 pipelines operational, according to people with knowledge of the situation. The Amuay and Cardon refineries that make up the Paraguana complex pump the water into tube steam boilers to heat oil distillation units. Removing salt prevents the buildup of minerals inside pipes that can cause breakdowns.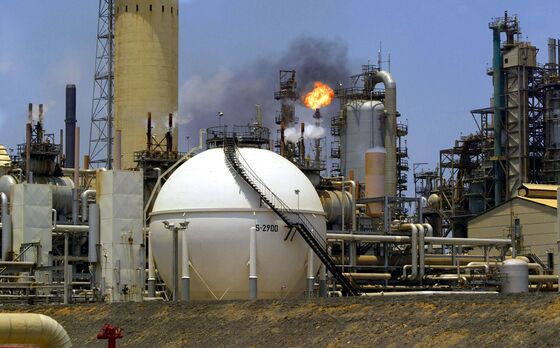 READ: PDVSA Partially Restarts Cardon, Amuay Refineries After 14 Days
Where at one time the refining complex supplied water and electricity it didn't need to the neighboring communities, now it's relying on resources from inefficient local utilities for its operations. That exacerbates a lack of equipment, parts and chemicals needed to maintain the units at the complex, which can turn almost a million barrels a day of crude into gasoline, diesel and other fuels.
The switch in roles is symbolic of the once-mighty oil industry's downfall under President Nicolas Maduro, where the country with the biggest oil reserves is producing less than 600,000 barrels a day and its refineries barely operate due to a lack of maintenance. The state oil company, PDVSA, was hit with sanctions that cut off the flow of cash from its oil exports and curtailed the import of necessary chemicals and equipment.
"PDVSA used to be self reliant in water services in the Paraguana complex," said Norberto Bausson, who was the head of the Caracas state utility in the 1990s. "Now it's depending on one of the worst water systems of the country, along with Zulia state."
Hidrofalcon, the state's water company, is in difficult position to respond. Local dams have collapsed due to lack of maintenance, according to an internal report and a person with knowledge of the situation. Maticora, the biggest dam in the area, is 40% sedimented and pumping stations are partially broken.
In addition, a $450 million project -- financed partially by the Bank of China and set up by China Camc Engineering Co. Ltd -- to build a 112 mile (180 kilometer) water pipeline to ease shortages on the Paraguana peninsula where the refineries are located, has been under construction since 2002.
The on-and-off water supply is hitting hard PDVSA's capacity to feed domestic demand for gasoline and diesel. Crude units at Cardon and Amuay were operating at a combined 110,000 barrels a day on Oct. 17 about 12% of capacity, according to union official Ivan Freites.